15 Best Food Delivery Apps for 2021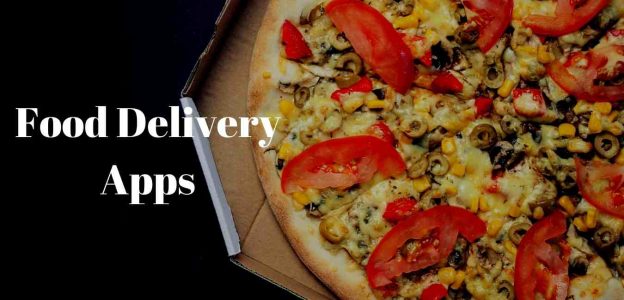 The food industry has evolved amazingly since we got our hands-on technology. The food industry is a trillion-dollar industry as it has jumped by 20% to 8.2 trillion in 2020, the biggest increase in years. Thanks to Covid 19, it impacted the global food and beverage industry. After seeing this increment many companies have set their foot in the food industry as a food delivery business. Well, everyone in this world is a part of this bloom. Thanks to this technology, now we all can sit in the comfort of our homes and have our favorite food while binge-watching our favorite show. There are many top food delivery applications that are delivering us foods to make our lives better.
We should also thank this pandemic as the percentage of daily orders has increased at unprecedented rates in the major cities worldwide. And top mobile app development companies have seen this as an amazing opportunity to make an engaging, hassle-free, and refined food delivery application that users can use to order food at any time of the day. Below we have listed the 15 best online food delivery applications for 2021.

1. Zomato
Zomato is a food delivery company founded in 2008. It provides information, menus, and user reviews of restaurants as well as good delivery options from partner restaurants in select cities. Zomato is currently serving in around 24 countries as they promise to deliver food to more and more people in less time. Zomato promises hygiene and quality standards from their partner restaurants. You can find Zomanto's application on Google Play Store and Apple App Store. The best thing about this food delivery application is you get to choose from many dishes to quench your hunger at any time of the day.
A year back Zomato acquired another food delivery giant UberEats. It only acquired its Indian counterpart for Rs 2,485 crore but it helped them to capture 50-55% market share in the food delivery business. And that is why UberEats is not on this list.
2. Swiggy
Swiggy is sitting on top along with Zomato in the best-in-class food ordering app today. The mobile app development of Swiggy is done in a fun and interactive way which keeps the user engaged and simple call to action. The top features of Swiggy include order scheduling, vast choices of restaurants, rating system, geolocation, and internal payment system.
Currently, Swiggy is present in almost all major cities and can be downloaded from the play store and the app store for both iOS and Android. Swiggy is known for its occasional discounts it offers to its users which is one of the reasons why it is loved by people of all age groups. Well, who doesn't want to save money? You have the option of using various payment methods, including COD, and online payment using debit and credit cards as per the user's convenience. If you are planning to open a food delivery business then mobile app development services like Swiggy are needed as it perfectly serves its purpose without any hassle. 
3. FoodPanda
FoodPanda is another pioneer in the online food delivery industry as it is currently serving in 11 countries to deliver your favorite dishes and cuisines. Foodpanda offers a user-friendly application that makes it convenient and quick to order food from it. Its top features include contact with the rider directly which allows the users to start a conversation with the riders directly. You also get exclusive deals, discounts, time to time vouchers, quick order delivery, which attract the users.

4. Faasos
Faasos is another food on-demand service that was incorporated in 2004. With a wide range of restaurants, Faasos helps its users to eat good and eat exciting food as it is available in all major cities serving a variety of delicacies for foodies all over. Faasos is also popular for an amazing service known as a bolt-in in which the food is delivered within 30 minutes, if not then the order is free. You also get various options to make multiple payment options which makes it easier for the users to pay as per their convenience along with timely discounts.
5. Dunzo
Dunzo is another top food delivery mobile app that offers services in top Indian cities like Bengaluru, Delhi, Gurugram, Chennai, Pune, Mumbai, Jaipur, and Hyderabad. Dunzo also operates as a Bike taxi service in Gurugram as it was founded in 2017 and was funded by Google. The best thing about Dunzo is that it works 24X7 and delivers anything to you in the next 45 minutes. With Dunzo, you do not need minimum order quantity, no location constraints within the city, offers, discounts, multiple payment methods which makes Dunzo out of this industry. Dunzo motivates the top mobile app development companies to create the best food delivery app to tackle this competitive industry.
6. Deliveroo
Dilveroo is an online food delivery company founded by Will Shu in 2013 in London. Deliveroo is a very big entity as it delivers in more than 200 locations in several countries including the United Kingdom, Netherlands, France, Belgium, Ireland, Spain, Italy, Singapore, Australia, Hong Kong, the United Arab Emirates, and Kuwait. Deliveroo makes sure that the food you ordered will reach you quickly, even in the busy hours and holidays. When it comes to online food ordering then consumers want to have the best features but most importantly they look for lightning-fast delivery and you get this with Deliveroo. You can easily search for the best restaurants in your area through this amazing on-demand food delivery application and order your favorite cuisine.
7. Seamless
There is a lot of competition among the Food ordering apps and that is why mobile app development companies are coming up with new ideas while developing a food ordering app to get unique selling points which no one else offers. Seamless is one such application that offers a large list of restaurants and quick delivery. You also get item-wise food search and restaurant wise searches, multiple payment options through wallet, live order tracking which makes "Seamless" a good food ordering application.
8. Grubhub
Grubhub is an American online and mobile prepared food ordering and delivery platform that connects diners with local restaurants. It was founded in 2004 and is a Chicago-based company. As every food delivery application has something unique to offer, Grubhub has the largest number of restaurants along with 24X7 customer service as per users' convenience. You also get exclusive rewards and deals with Grubhub which helps them to attract new users along with engaging design.

9. Eat Fit
People are very health conscious about their health these days. And if you want to have healthy food right at your home then Eat Fit is the best food delivery application for you. As the physical activities have reduced considerably, this application also helps you with the best exercises along with healthy food. Eat fit also offers nutrition education and access to healthy foods. You can easily customize your meals before ordering them as this application nourishes your healthy habits.
10. Dominos
If you want a piping hot pizza at your doorstep then Domino's app is perfect for you. Dominos application allows you to customize the order. The best thing about this food delivery app is that it promises a 30 minute delivery time. But the major setback is you can only order limited food available at your nearby outlet, however you can also order it while on a train. You just need to order your favorite pizza from the nearest domino's outlet and you will be received by the delivery agent at the next station. Domino's has really taken it to the next level.
11. Scootsy
Scootsy is an India-based food delivery business and has a special MapTech which makes it easy for the users to track your delivery agent in real-time and to know at what time the order will reach you. There is an android version of "Scootsy" available on the Play Store as you get multiple payment options and quick delivery.
12. TastyKhana
TastyKhana provides access to 9000+ restaurants and provides you with the best food available in your local area. The android version is available for the users in Playstore to download, and it is free. Convenient user interface and multiple payment options and easy profile creation are some of the features of the TastyKhana food ordering app.
13. Uber Eats
Yes, this is the same cab giant who now came up with a food delivery service with the name UberEats. You can use UberEats to search for food categories, location, or restaurant wise. You can browse restaurants, order food and track your order as the booking is easy through three steps. You can contact the delivery agent as soon as you book the food. The success of this app inspired several food delivery apps like UberEats to enter the market.
14. Potafo
Potafo is another user-friendly food delivery application that allows you to order your favorite food on both your Android and iOS devices. As per the latest data they deliver from over 100+ restaurants in two major cities with more than 1000+ dishes available on their platforms. Potafo is often appreciated for its amazing customer service and quick food delivery. The mobile app development of Potafo is seamless which makes food ordering hassle-free.
15. Pizzahut
Just like Dominos, Pizza Hut also offers a food delivery application from where you can order fresh and tasty pizzas and other food available at Pizza Hut. This application offers easy carting, liver order tracking, location mapping, and an intuitive user interface which makes it easier for you to order your favorite pizza or the other things you like.
Conclusion 
In this advanced era, a mobile application was a new thing for all of us a few years ago and now we have an app for everything these days. You can find on-demand grocery applications, eCommerce applications, taxi booking apps, and many others. Mobile app development has become crucial for businesses these days as it waves the path towards success. Similarly, food delivery applications can be seen all over the market, and in the next few years, we are going to see many changes in our life and an app for everything. So this is the right time to hire the top IT outsourcing companies and get your idea updated into an application to gain success at an early stage of life.

(Visited 216 times, 1 visits today)