26 Best Grocery Delivery Apps in India; Shop Smart in 2021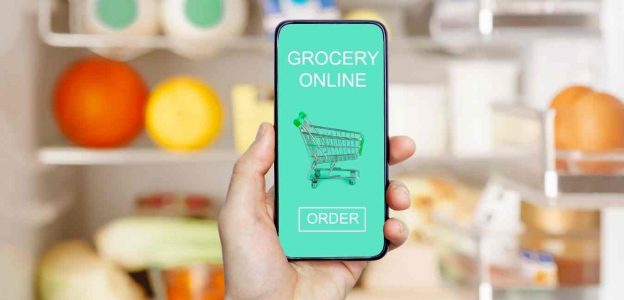 Grocery shopping is a tedious task, spending hours at the store and then dragging those stubborn bags home. Already exhausted to even prepare the next meal. This was the traditional way of grocery shopping when there were no grocery delivery apps. But now, the scenario has changed. In the mood to make pizza or pasta for dinner? here is a grocery app at your fingertips making every ingredient you need available at your doorsteps.
Mobile app development has made lives easier for everyone and doorstep delivery of groceries is one such benefit that people are appreciating worldwide. Amid the COVID-19 pandemic, an American Grocery Venture – Instcart saw a rise of 200% in its downloads from Feb to mid-March 2020, says Statista. Just like Instcart, several other online grocery ventures saw a commendable hike in their sales simply because they have a robust online marketplace to serve their clients remotely.
The number of downloads for such apps continues to grow in the post-pandemic market too,  clearly depicting that people are habitual to this new normal. As GroceryDive says, more than 30 million people worldwide will be using online grocery apps to buy groceries by 2022.
Just like other app genres, there are several grocery apps uploaded on Playstore and Appstore, and for you to make the best choice, here is the list of the top 26 grocery delivery apps in India that you will be needing in 2021. Stay Tuned.

Advantages of On-Demand Grocery Delivery Apps
-> Doorstep delivery of goods and commodities.
-> Proper care of delicates like eggs, meat, and bread.
-> Free delivery by some grocery stores saves your time and petrol costs.
-> The app offers the same prices, sales, and discounts that are actually going on in the store.
-> 24/7 browsing is available. You can preserve your shopping list in the cart and then place an order when the store opens.
-> No standing in a queue.
-> All indigenous and exotic items are available under one roof.
-> Smart search – saving you lots of time which otherwise you were spending on searching the items in store.
-> Site navigation takes you to the offers and discounts of the season.
-> As the COVID-19 protocols dictate, the products are handled with care and safety, proper sanitization is maintained and safe home delivery is assured.
-> Quick online payments preventing you from going to the ATMs and withdraw cash.
-> Avoid taking multiple trips to the store. Even if you forget to buy something, you can anytime open the app and purchase the product then and there.
Also Read: Food Ordering Mobile App Development Company
26 Best On-Demand Grocery Delivery Apps in India (2021)
Grocery App Development is a sure shot way to success due to its increasing demand in the market and the post-COVID new normal. Respecting the social distancing protocols, people are majorly shifting from traditional shopping methods to online grocery shopping. Moreover, these apps have successfully saved their time and petrol costs.
Here is the list of 26 best On-Demand Grocery Apps that highly recommended in 2021:
| | | | |
| --- | --- | --- | --- |
| Amazon Prime Pantry | Flipkart Supermarket | Big Basket | DMart Online Store |
| Reliance Smart | Paytm Mall | Easyday Club | Nature's Basket |
| Just Hap | Dunzo  | Grofers  | Snapdeal Grocery  |
| Zopnow  | Star Quik  | Big Mart | Shopclues Grocery  |
| On Door | Foodzu | Jio Mart | Heritage Fresh |
| Spencer's  | MyMoreStore | Daily Rasan  | Big Bachat |
| Brown Bag  | Spar | | |
1. Amazon Prime Pantry
The venture by a worldwide renowned e-commerce giant, Amazon – Amazon Prime Pantry is one of the most sought-after online grocery marts in India due to its quick delivery, easy site navigation, and offers/discounts. The app is the perfect inspiration for those who want to invest in a full-fledged grocery shopping app as its UI is smooth and consists of all the features that an online mart should own. The app serves in more than 300 cities including all the metropolitans.
Gateways: Android, iOS, Web
2. Flipkart Supermarket
Flipkart is another e-commerce giant that is facilitating people with grocery shopping at home. It is one of the leading online shopping websites in India and is still striving to maintain the spot. This online grocery store has everything from spices to dairy products, oils, lentils, grains, etc. The app is responsible for doorstep delivery in more than 90 cities of India.
For the convenience of its valued clientele, Flipkart offers both pick-up or doorstep delivery options.
Gateways: Android, iOS, Web
3. Big Basket
The platform owns more than 10,000 grocery items so whatever you have on your list you will certainly find them here. From fresh vegetables to fruits and dairy products you can get anything on the portal with the best delivery practices involved while carrying the products. Big Basket is in partnership with all the top grocery brands assuring the only quality products to reach our doorsteps. Big Basket continues to give a tough competition to apps like Grofers and Zopnow.
Gateways: Android, iOS, Web
4. DMart Online Grocery Store
DMart is clearly having a hype in Mumbai with free delivery and pickup all over the city. Either it is a website or an app, the entire online marketplace is bombarded with 1000+ grocery products to purchase with easy returns of damaged products during delivery. Whether it's an Android or an iOS app, DMart assures the best user experience with quick payments and sound cart facilities.
Gateways: Android, iOS, Web
5. Reliance Smart
Every mobile app development company strives to give its best in terms of app mechanism and in-built technology, one such example is Reliance Smart – the online grocery store owned by the renowned Reliance LLC is a full-fledged grocery marketplace with exclusive features, hassle free-payment system, easy search and site navigation. Reliance Smart is a smart store for the smart generation. 
Some of the top Indian brands are on board with Reliance Smart – Patanjali, Amul, Tropicana, Surf Excel, etc.
Gateways: Android, iOS, Web
6. Paytm Mall
Whether it's online payments, e-commerce, or grocery shopping Paytm has established its goodwill throughout India. Today every person in India is somehow associated with Paytm as a user. This is due to the best e-commerce app development and the robust grocery E-marketplace Paytm owns. Started in 2016, Paytm has successfully achieved a position of the most valued E-Commerce Business after Amazon and Flipkart. The app is operative all over the country.
Gateways: Android, iOS, Web (www.paytmmall.com)

7. Easyday Club
The venture by Big Bazaar, Easyday Club is one of the preferred choices of Indian households when it comes to online grocery shopping. The online store has a large catalog of edible and non-edible products plus the exclusive membership offers to retain its valued client base. The service is open from 9 AM to 9 PM every day and has the option for free in-store pickup. The exclusive membership comes with incredible offers that will let you save a substantial amount on your purchase – which is one of the best things to buy from a grocery app. The app serves across the country.
Gateways: Android, iOS
8. Nature's Basket
As the name depicts, Godrej Nature's Basket works with the aim to deliver the freshest and the finest foods at your doorsteps. Complete care while carrying your grocery, this is one of the best and most trusted food delivery apps all across India. Pacing with others in the market, Nature Basket also gives some best offers and discounts to its clients if purchased from the app. The app is the best example of Android and iOS app development with the perfect UI/UX.
Push Notifications regarding the updates on offers and fresh arrivals in the store.
Gateways: Android, iOS
9. Just Hap
Assuring the safest grocery delivery at your doorsteps, JustHap is an online store that paves the way for reliable and on-time grocery, fruit, and vegetable delivery.  During COVID-19, the app has served many people gaining their trust for a lifetime.
The product categories on the app are beauty essentials, food, dairy, cleaning essentials, meat, and vegetables/fruits.
Gateways: Android, iOS
10. Dunzo
Dunzo is constantly gaining appreciation and popularity among Indians. The app was started in 2014 and is now one of the top 10 on-demand grocery shopping apps. Dunzo is currently active in 7 major cities and is serving door-to-door with groceries, food, medicines, pet supplies, and lifestyle essentials. The app is super-fast when it comes to home delivery and adheres to all the sanitization protocols. In 2017, Google-funded Dunzo seeing its potential to become the grocery solution of tomorrow.
Gateways: Android, iOS
11. Grofers
It requires the best IT Company to make a full-fledged online platform to serve grocery to various parts of the city/state/country. Grofers is one such product made by the best in the league it is a feature-rich and dynamic platform for grocery shopping. The UI is highly interactive and you can see an array of brands listed on the portal. The app promises safe delivery of vegetables, fruits, dairy, and dry groceries. No compromise with the quality of the product and there are multiple payment options on the app itself.
 Gateways: Android, iOS
12. Snapdeal Grocery
Every Indian household is aware of the name Snapdeal – the leading e-commerce store that has initiated grocery delivery and is active in 96 cities of India. Snapdeal has a tie-up with several local stores so that they can easily reach out to every doorstep in India. This online grocery owns a wide range of pulses, beverages, snacks, food items, spices, tinned food, and a lot more. The pricing is reasonable and home delivery is quick.
Gateways: Android, iOS

13. Zopnow
India has the largest consumer market and the best online grocery apps are here to serve their huge clientele with quick doorstep delivery and top-notch products. One such app is Zop now, this online grocery venture is touching the skies with its best service and user-friendly mobile application. Zopnow owns a partnership with not only supermarkets but hypermarkets like HyperCITY.  This is one of the quickest home delivery app that can be trusted in the time of emergencies – it is known to deliver the products within 3 hours if your home is at a distance. 
Zopnow is available in Pune, Noida, Hyderabad, and 6 other metropolitan cities.
Gateways: Android, iOS, web (www.zopnow.com)
14. StarQuik
If you are looking for inspiration to build your own grocery delivery app, Starquik is the one you would like to refer to. The extension of Tata Enterprises, StarQuik is an online grocery app that has a clean interface and more than 1000 products cataloged on the app surface. You can easily buy vegetables, fruits, grains, dairy products, packaged foods, and other essentials. The app showers its valued clients with exclusive offers, season's sales, and substantial discounts letting them save a lot on shopping from the portal. StarQuik is the platform for bulk grocery shopping. The app supports home deliveries in Mumbai and Bangalore but holds a vision to target pan India.
Gateways: Android, iOS, web
15. Big Mart
Before you discuss the requirements with your iOS and Android App development company make sure you have seen the functionality of Big Mart. The app is one of the full-fledged ecosystems involving the buyers, sellers, and a robust backend. The brand gives assurance of quality in all its groceries which you can easily purchase by swiping and clicking the few tabs on the app. With its commencement in 2016, Big Mart is constantly setting benchmarks for its competitors in terms of delivery and product quality.
Gateways: Android, iOS, web
16. Shopclues Grocery
Another big online grocery marketplace, Shopclues Grocery. An established e-commerce firm turned into an online grocery app in times of pandemic to serve a bit more to its clients in the tough times. Grocery is our everyday need and keeping the fact in the mind, they extended their venture to essentials. They have everything in stock from staples to fruits, vegetables, dairy, and dried groceries all at affordable rates. Apart from that, they offer beverages, tin, and packaged foods. The site navigation and search bars make it easier for the consumers to fetch any item they want from the Shopclues Grocery app.
Gateways: Android, iOS, web
17. On-Door
Several brands outsourcing their tasks to grocery app development companies have the vision to serve their clientele with advanced technology and the comfort of grocery shopping. On door does the same. As the name has it, On the door is an on-demand grocery shopping app that serves a large clientele in India. The application offers quick and on-time delivery of good quality food, beverages, dairy, and vegetables to households residing in Indore and Bhopal. The app is free to use and takes no delivery charge if the shopping amount exceeds a certain threshold.
Gateways: Android, iOS, web

18. Foodzu
Foodzu is one of the trending online grocery apps that comes with some interesting features and classic shopping experiences. The grocery app gives a seamless shopping experience with on-time delivery and quality assurance to all the residents of Bangalore (and nearby). Exclusive shopping deals are available for new users on Foodzu.
Gateways: Android, iOS, web
19. Jio Mart
Started in 2019 as a joint venture of Reliance Fresh and Jio, Jio Mart is currently people's favorite online grocery shopping app. Jio Mart is a widespread name with its outlets in more than 200 Indian cities and is winning hearts with its best deals on online shopping with free doorstep delivery. You can find any grocery item on board in the affordable price range with an easy return policy of non-edibles.
Gateways: Android, iOS, web
20. Heritage Fresh
Heritage fresh is the grocery selling extension of India's renowned business company Future Group. The brand is adamant about serving all kinds of groceries to the consumers in its 1000 supermarkets currently operative in 168 cities of India. The online service is given in two cities – Bangalore and Chennai. Whatsapp is one of the apps that is used by every smartphone owner in India, Heritage Fresh lets its valued customers shop as per their convenience on Whatsapp.
Gateways: Android, iOS, web
21. Spencer's
Today every business is relying on mobile app development to grow as this opens all the online channels to success. For a grocery service, there is nothing better than a full-fledged on-demand grocery shopping app. Spencer's one of the grocery services that shifted to the online app to serve its clientele with a wide range of top-notch products. The delivery slots are flexible which is the USP of this app.
Gateways: Android, iOS
22. MyMoreStore
MyMoreStore is a venture by Aditya Birla Group which is one of the most popular names in India. They have their foot in several industries including the online grocery shopping venture. MyMoreStore has always surprised us with its unbeatable quality products and its wide range of listings including not only grocery but fitness products, homecare, and stationary. This online grocery service is known for its quick delivery. 
Gateways: Android, iOS, web
23. Daily Rasan
If compared to any offline 'rashan' (grocery) store, Daily Rasan App has much lower rates. Moreover, the app comes with exclusive deals on which you can save a substantial amount on grocery purchases. The app holds a clean and user-friendly interface that can be used even by a non-technical person with seamless quick checkouts.
Gateways: Android, iOS
24. Big Bachat
Big Bachat is yet another example of perfect app development for grocery shopping. The app owns multiple features with seamless site navigation, a special recommendation page, and an easy search bar. The app is quite popular in India for purchasing groceries, beverages, and packaged foods (like biscuits, chips, and other snacks). If you are loyal to a particular brand, the app lets you search for the grocery brands that you prefer.
Gateways: Android, iOS
25. Brown Bag
The demand for groceries is never-ending and a grocery app is a million dollar deal if you own the best grocery selling app. Brown Bag is yet another grocery selling app that is to be looked forward to as an inspiration to build your app. Chances are high for the app to be successful if it has a Unique Selling Point, Brown Bag owns one. The app is known for flexible delivery slots and has easy and transparent return policies.
Gateways: Android, iOS

26. Spar
One of the leading online destinations for grocery shopping, Spar is the all-time favorite of many Indians which makes it through our list of top 20 online grocery apps in India. In addition to high-quality grocery products, this online store sells beauty products, electronics, and home decor items. The app has more than 20,000 products that are listed in an organized way on the spar. There is a category fixed for every commodity which makes it easier for the consumer to search the product. There is a "Spar Exclusive Code" that lets you avail the benefits of Buy 1 Get 1 Free and instant cashback.
Gateways: Android, iOS, Web   
What do we see in the Best Grocery Shopping App?
On-demand grocery selling app serving in India is a boon for any business as it owns the largest consumer market and grocery is their daily need. There has been a significant hike in the downloads and usage of such grocery delivery apps which is a plus point that people are being more and more familiar with this utility and are accepting it in their lives. COVID-19 pandemic too played a big role in this shift. As the number of downloads for online grocery shopping apps is increasing day by day, it is quite established that grocery delivery apps are the future of smart India. This is a competitive market but with a lot of lucrative opportunities if everything including the mobile web app development is done on the right foot.
Here is what users expect from the best grocery shopping app…
-> The best app serves a larger geographical area.
-> Must have multiple and secured payment channels.
-> The app should own a wide range of products (indigenous and exotic)
-> Feature-rich application with a clean UI and the best user experience.
-> The app that gives discounts, cashback with seasonal offers is highly in demand.
-> Easy returns and refund policies.
-> Quick delivery of products is the sole reason why people look forward to shopping from the best grocery delivery app.
-> No compromise with the quality of the products.
-> A little additional information (may it be regarding the product or services) on your part will help you gain more clients.
-> A Unique Selling Point or the best that the app gives.
-> Round-the-clock customer assistance also matters.
There often resides more than one grocery delivery application in the user's smartphone. Most probably they have 2 or 3 apps that have served them the best previously. Also, people are more attentive to discounts and a range of exotic ingredients that are hard to find anywhere else,  which makes them refer to more than one application.
Apart from all the above-mentioned qualities that an on-demand grocery app should carry you can also consider giving the best service with voice assistance and 24/7 available chatbots.

(Visited 414 times, 1 visits today)