10 Best Practices for an Effective Mobile App Onboarding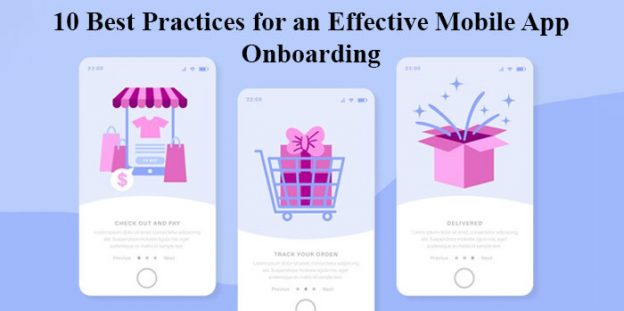 We have grown up listening First impression is the last impression. True enough in the case of your online presence these days! Failing to offer a great experience to the users on their first visit draws them away from you and they hardly come back to test your platform again. Nevertheless, Onboarding is an amazing concept which gives you an opportunity to connect with your audience differently while they interact with your mobile app for the first time. Technically, it is a set of screens guiding users about functions and benefits. There can be three purposes for Onboarding. 
A. Educating users about your app's features
B. Telling them the benefits
C. Guiding users for registration
D. Collect profile information in order to offer personalized content. 
Why is Onboarding important? 
Interacting with an app for the first time is not as easy as assumed by its creators. The users are not aware of the functionalities and the way those are implemented by your mobile app development company. Moreover, they would not be comfortable sharing any information until they are sure of whether you are going to satisfy their needs or not. As effective onboarding works here to guide them through the various pages and features of the application. An engaging first-time user experience is key to app success and capable of housing ongoing user engagement. 
User are likely to lose interest when they find any app complex or tough to use. Today's user seeks for quick solution and is intolerant towards any kind of waiting. If it becomes hard for them to navigate things they are looking for, they always have an option to quickly move towards some other app providing similar services. An effective onboarding would also help you minimize the pain points of the users. 
Types of Onboarding:
1. Function oriented onboarding: In such onboarding practice, users are made aware of how to use the app and its core functionalities. It starts with telling user about how to get started and slowly they are told about how to perform certain actions through the app. It helps user get familiar with all the features you have come up with and they do not have to spend unnecessary hours understanding things on their own. For example, if you have come up with an on-demand Taxi app, then function oriented onboarding would tell your users about how to set pickup, destination, call driver, share the ride etc. 
2. Benefit oriented onboarding: This is another kind where you tell users about the benefits, they are going to receive out of using your app. It basically presents the reasons why an individual should use the app. There can be n number of benefits or solutions listed on your business plan whereas you can refine the list to take out the most appealing ones and present them on onboarding screens. In the above taken example of on-demand taxi app, benefit oriented onboarding would tell users things like 24*7 available service, professional drivers, pooling option, online payment etc.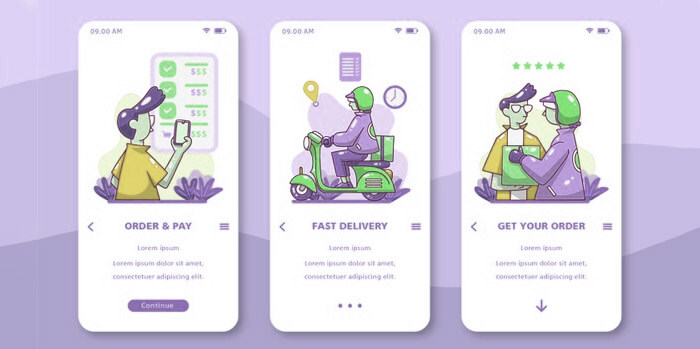 3. Progressive onboarding: As the name suggests, it shows users new information as they progressively navigate through the app. The related information is displayed as per the page user has visited. It is helpful for the users who are not too good at remembering things. They get to see everything about a particular page as they visit it and do not have to think about what was told at the time on onboarding. For an on-demand taxi application, progressive onboarding would be like telling user about how to set pickup and destination and as the cab gets booked, the app would present information regarding how to call or message driver or cancel the ride. Once the ride has started, the app would tell user about how to share ride, change destination and perform other tasks.
Best practices for an effective app onboarding: 
The mobile app developers should consider making the onboarding spontaneous and visually attractive so that users remain excited about getting in touch and enjoy your services. Here are some of the efficient practices which can make your onboarding process lovable and enough to rely on. 
1. Frictionless registration: Users should be able to register or login over your app easily. There should be an effortless onboarding only then user would be able to see the inner details. Research your registration and login options and eliminate anything which unnecessarily increases the steps. Creating an account on app is a big hassle for most of the users hence keep it simple and effortless. The registration screens generally include entering mail address and creating a password or using Google+ or Facebook as social media login options.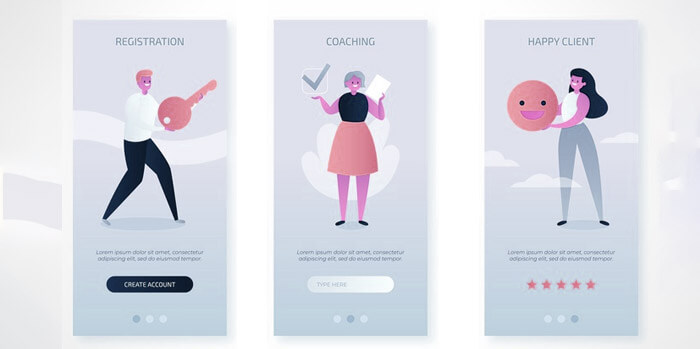 2. Speak about your value propositions: If you are offering value to your customers, do not forget to speak about it in front of the new users. If you don't tell them how your app can change their lives, they may forget you soon or uninstall your app. For example, The Newyork Times app talks about three things over its homepage which are enough to attract users. They display the number of journalists they work with, number of countries they are operating in and the kind of analysis and investigation done before posting any news. A user can also simply proceed without knowing all this but displaying this information about your business inculcates a sense of trust in them. 
3. Do not ask for unnecessary permissions: It was just yesterday when I installed a gaming app which was seeking for permission to access my location after every single minute. Why would a gaming app require user location? I had to give up on it. Even if you require it for a valid reason like for marketing purposes, users would doubt you. In a way, you are becoming a big hinderance in their way of enjoying your app. There is no need to puzzle your users by sending unnecessary requests when your app is just launched. You can always do it later when the users becomes well acquainted with the quality features you are providing. 
4. Keep your onboarding screen minimalistic and focused: Nobody likes to read long paragraphs specially when they are using anything for the very first time. Tell them about your app quickly and be focused over the unique selling points that immediately appeal them and compel them to use your app. Your onboarding screens should be minimalistic and focused over certain important things. Try to summarize you whole idea or concept in a single line and some one worded bullet points so that users can quickly go through them and proceed.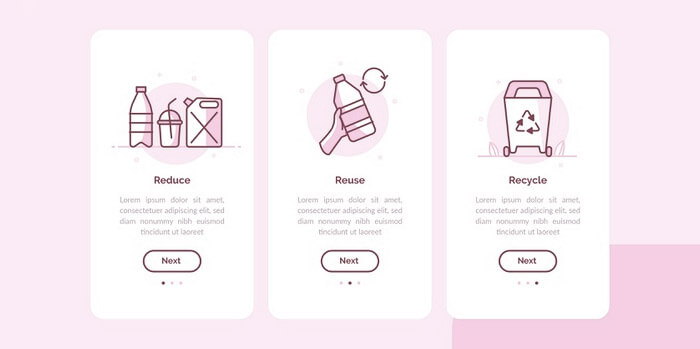 5. Personalization is a key to rightly approach today's user: Everyone loves to get personal attention. You can do it easily by means of advanced & approaching technologies like Artificial Intelligence, Machine leaning and more. Make your software capable of understanding user's purchasing behaviour, browsing history and other important aspects to present a personalized window. Give them a tailor-made experience so that they can see the collection of their choice immediately which might also increase the chances of conversion.
For example, suppose you are searching for a blue coloured dress from a long time, but nothing seems okay. Next time you come on an app, you can a separate section just showing up all new blue dresses added to the store. You will quickly look at the options and purchase one. You can also take Spotify's onboarding process as an example. Once you create the account, you will be asked to choose from multiple musical artists you like to listen to so that you can later have customized playlists created for yourself. 
6. Inform users about next step: Informing users about the next step works as important in-app call-to-actions for you. If you keep on telling them what to do next, you will be able to retain them for a long time. For example, over an ecommerce website, on product detail page, you will ask users to either add product to wish list or cart. If they add it to wish list, you will display an option saying 'Move to cart'. Once the product is in cart, you will ask them to Buy it. These are important call to actions for your app without which users might get lost in the process and drops the idea of purchasing there and then. It works greatly in raising audience retention and involvement. 
7. Track analytics: While you have just launched your app, you need to know which pages are performing well and which of them are becoming hurdle for users to keep optimizing it. Track the activities of the users on each and every page of your app. This is how you will be able to make necessary changes to those screens. Understand the conversion rate of each page and optimize the ones which are under performing. Now, how to do it? There are plenty of tools available in the market which can be integrated to your system to generate daily analytics reports for you. 
8. Allow users to skip: Allow users to skip the steps that do not consider useful. If you are coming up with a general app whose features can be easily predicted and operated, then there is no use of onboarding screens. But since you are unsure of user's knowledge, you can put those screens and allow them skip. In this teach savvy era, most of the people are capable of doing a lot of things on their own. Then, there are people who love to simply explore the product on a new app instead of reading the guidelines. 
9. Go for appealing animations: You will get plenty of amazing designers who would like to work on the animation part of your onboarding screens. Animations serve as quickest way to tell users about your app and at the same time, keeping them engaged with the amazing interface. Moreover, you have just 5 to 10 seconds to grab the attention of the users and putting a boring text all over would not be effective. A series of animated illustrations grab user attention and also prove to be very much interesting to the users than some kind of plain text or normal images. You can also present a blend of animation with textual descriptions. 
10. Make onboarding screens visually appealing: Yes, we have suggested you keep the screens plain and minimalistic. Still, they have to be visually appealing in order to pique interest in users mind. People always make decisions on the basis of first impression. Try to maintain a balance between simplicity and attractiveness of the screens. In a place where too much is bad for you, coming up with too little might also be bad. Try different screens with different users and test which one performs well for the final pass. 
Before designing the onboarding to procedure, you need to know a few things about your application. Is it based on a new concept or one of the same old concepts with a new twist? For a totally new app, you might have to invest a good amount of time while framing the onboarding strategies. For an app similar to what already exists in the market, a dedicated onboarding is not that important. Your target market would also tell you a lot about the type of onboarding you should keep. For example, if you are creating an app useful for elderly people, you will have to keep the onboarding screens very much detailed. Also, keep the onboarding progressive so that if they need any help regarding a particular feature, they can see the related information right there on that page itself. Onboarding keeps sheer importance for your app to get returning clients or regular users. Using few important and useful words can make you create a space in the hearts of the users. Remember to also make users feel welcomed and thank them for their time. It would help you facilitate a positive user experience essential for to increase the retention rate.
(Visited 422 times, 1 visits today)