Your Ecommerce App Development Checklist. Things to Not Miss On!
Customers and retailers are fascinated by the volume of people preferring online purchase and trading today. Everything is being sold and bought online from furniture, appliances, wearables to everything. Not only products, reservations and bookings are also finding new places in the digital sphere with travel, hotel and hospitality industry entering in. There are enormous opportunities for retailers today with augmenting Ecommerce app development technologies. Here is the list of 10 vital tips that will not only assist you in smooth development but also let you create a system that lives up to your customers' satisfaction. 
1. Make neat and clean UI:
When any of your website or app gets launched what makes it user friendly. Would it be your brand name, your logo, offers and discounts or what? It would be nothing but a good user interface. Your app should find its base on a good and user friendly design with bug free functionalities. The user interface of an app does not only mean a good and catchy design, it also means the searching capability it gives to the users. Additionally, it is about the navigation as well. How easily the user is able to find information he/she is looking for, defined a good UI and UX. In this era of high competition, it has become really important to offer a great user experience so that the users do not move away from you, towards your competitors. 
While your Ecommerce app designing company works on creating UI, make sure all the important things are displayed within the screen. You have to take care of how mobile phones are used. All the buttons, links, Menu and content have to be set in such a way that they look uncluttered.
A good UI would let your prospects explore more about your products and services and hence there is possibility of conversion.

2. Minimum steps navigation:
Over website you can give a lot of categories and subcategories with desired content capturing as much space as you can whereas over mobile app you have a little space in which you need to show only important categories and subcategories along with limited content so that for the sake of elaborating one thing, you do not miss on to others. There has to be a smooth navigation throughout the app so that the user don't have to spend too much time searching for one thing. Make sure to keep content as less as possible so that it can be displayed fully on small mobile screens and you can convey your idea as well.
There has to a simplification done on the basis of content which needs time and efforts. So, before your designs get finalised make sure you have final content in your hands.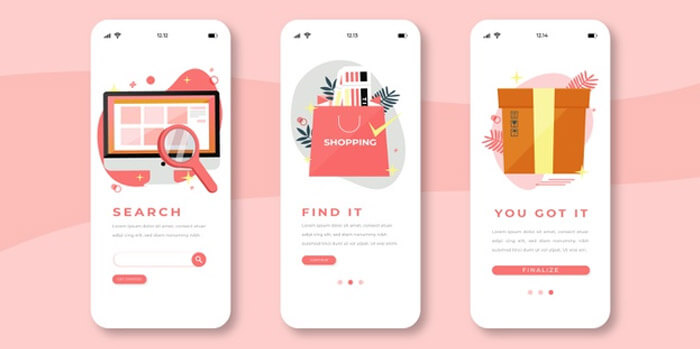 3. Simple sign up and checkout process:
Keep all the functionality of your app simple most importantly, sign up process. There are many application still asking users to fill out long sign up forms so as to get most of their information and then use it for marketing purposes. The sign up should only ask for your name and a contact number or email address. There can be other things as well which you might require but once the account has been made, you can ask the user to complete the other details on their dashboard. Social media login is the best way to sign up these days where the user just need to permit apps to take their information from Facebook/Google+. It is the quick most and most loved method.
Secondly, your app's checkout process should not be complicated. It is the stage when your prospect is on the verge of conversion but due to complex checkout methods, you might lose masses. 
4. Application of progress bar:
It is not necessary that you can always have a small sign up, checkout or any other form. You might belong to a business type which might need more information about the want-to-be users. In this case, you can just show them the progress in the form of a progress bar so that they may know how much do they need to complete. Also, allow them to save the details that they already filled up if they have left the form in between. Show them green progress bar when they are about to complete the form so that it motivates them to quickly complete it and proceed.
5. Ensure quick loading:
Make sure your website loads in the matter of 4-5 seconds else the user might get irritated and lose interest in moving forward. Your ecommerce website might have lakhs of products due to which the speed of the website would naturally go down but make sure that the code is properly optimized, there is no server issue and take care of everything that is linked with the website speed. Loading time of your website is also an important factor in SEO. So, if your website has a low loading speed, it might also suffer a bad fall in SERPs. 
6. Smooth cart functionality:
There has to be bug free and smooth cart feature in an Ecommerce app. Generally, users keep whatever they like in cart and purchase them later. Also, users use cart or wishlist to keep options in front of themselves. Ecommerce app developers need to give an option to the users within listing or product detail page to add the product in cart without taking them to cart page. Some of the applications take users to the cart page every time they add any product in it which is a wrong practice. Just keep them on the same page and highlight cart icon so that they can continue purchasing and item gets automatically added in the cart.
7. Creative use of smartphone features:
Smartphone devices now come with various sensors and  abilities of identifying wireless connectivity and gestures. Some app developers have brilliant skills to use such features. Like, some application show deal of the day when user shakes mobile phone. Not just this, there are many more things that you can do with such features. It is not something required but just keeps your users interested and engaged. 
8. Do not miss on wishlist:
While browsing through your products, the user might like more than one product which is fulfilling their needs. Having a wishlist in your app is as important as having cart. Customers pull all their choice in the wishlist and then select which ones are to be moved in cart. You can also show the wishlist in a creative manner such as, we had a client who wanted to give a small popup at the top whenever a user adds anything in wishlist. That popup could show all the products that the user has in the wishlist so that the user don't have to go to another page to see what all he/she has already added. 
9. Recommend products:
Recommendation of the products should happen automatically through the search history, browsing behaviour and purchase made by the user. When user browses through any app, a data log is created through which app owner can target them. The apps that have analytics give a lot of information about the behaviour of buyers which helps in personalization of information. Suppose there is a category that sits on top of the priority lists of a particular user then products falling under this category would be shown on a prominent place over app so that they may attract users. 
10. Make it secured:
Your app should be safe and secured in order to achieve desired success. An app built with low security measures is prone to various attacks and hence has a low life. You might lose all your data and code in a minute. So make sure that you are providing a high level of security and make all the transactions encrypted with security features.
These features will not only help you having an app that is well developed but also would help you set up a good branding and recognition in the market. Advanced technologies like AR and VR are also becoming an important part of mobile app development today. An ecommerce application with great UI and effective marketing can definitely make success in the market. If you are able to feed these two things into your strategy then you just need to work on retaining your customers with good quality products and services. A good customer service is also an integral part of any ecommerce business as when people purchase things online they have more issues which need attention and solutions.
(Visited 100 times, 1 visits today)