What is the Average Salary of a Web Designer in 2022?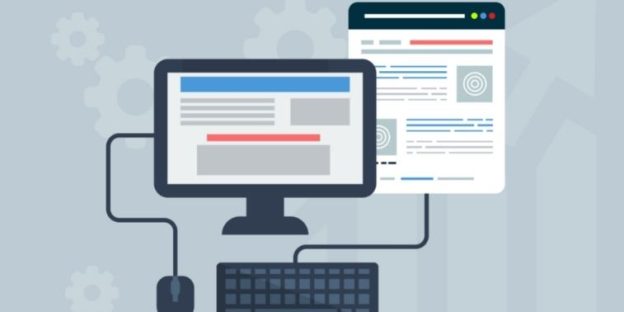 When it comes to showing your creativity then you can't put a price tag on it. But we all need to earn money in order to survive in this world, and that is why most people are turning their passion for creativity to work. And I strongly believe that web designers are one of them. They are using creative and modern ways to express their creativity and skills in visual design. It is surely one of the best fields at the moment that shows promising results and has a great future.
Just like any other job, becoming a web designer needs a certain set of skills that you need to major in. To be a web designer you not only have to showcase your creativity but also have to fulfill your client's needs. If you really want to have a great future then web design is surely a fulfilling occupation. We know what's bothering you, Does a website designer's salary pay the bills? What kind of salary does an average web designer get? Well, if you have a little bit of experience in the field then you know that the answer depends on many factors like which part of the job you choose and a lot of others. You don't have to worry as we are writing this blog for everyone who is facing this kind of question in front of them and can they really take the leap into a web design career?
We will also have a look at whether becoming a freelancer, taking on a full-time position, or working with WordPress will be a better option for you.
What Do You Require to Be a Web Designer?
Before we finally figure out how much a web developer makes let us understand what are the job requirements you need to be a web designer.
First, it is not necessary to have a degree, as you can be hired if you have the required skills, experience, and talent. Still, we live in a world that embraces degrees. We suggest you get an associates's degree in design, computer technology, or other related design. If you started early in your career you can also get a bachelor's degree and it would be amazing and reflect in your salary.
However, with or without a degree, you will need experience, and you can get that by working on your portfolio. You can also work a little bit for your friends and families to get experience in the field. It will also give you an idea of whether your design stands out from the rest. A good portfolio can single-handedly get you hired. Let us have a look at the required skills to be a graphic designer.
-> Understanding of web design tools like Sketch, InVision Studio, Photoshop, etc.
-> Graphic design skills
-> Communication skills and teamwork
-> Little comprehension of skills like SEO
-> Most importantly knowledge of front-end programming languages like HTML, CSS, JavaScript, etc.
What Does a Web Designer Have to Do?
As a web designer, your tasks will vary depending on how far you are into a project. Sometimes you need to refine sketches and wireframes that meet your client's demands. And sometimes you need to start coding entire mockups in HTML.
As a leading web design company, we suggest you start by learning the tools of the trade. Usually, the web designers stick with Photoshop, Dreamweaver, and Adobe Suite. Along with working with these tools you also need to pick up a few coding languages as well. In which HTML, CSS, and JavaScript are must.
Frameworks and libraries like bootstrap are worth giving your time to. You can upgrade your skills by learning the best programming languages like PHP, Python, or Ruby and get a better pay scale.
How Does a Web Design Project Work?
It starts with the concept phase and that's where your communication skills come in handy. You need to discuss the ideas for the website concept, project/branding guidelines, terms, and requirements and deliver the result within a deadline. This is basically outlining the scope of the project and bouncing ideas around.
Now comes the real work where you need to sketch out site designs and wireframes until you all agree on one idea. We suggest you make a sitemap to better understand how everything will be laid out.
After the designing part, you need to showcase the mockups which are basically the in-depth ideas of what the actual website will look like. At the same point, you will also get a lot of client input and you might need to change a few things accordingly.
Once the website is complete with the other developers, it goes into testing followed by launch. Testing makes sure everything is working fine and customers won't find any problems while using the website.
The Average Salary of a Web Designer
There are many factors that play a role in determining a web designer's salary in a top web designing company. The top factors that enterprises usually take into account are experience, skills, and platforms you have worked on. For instance, if you are a WordPress web developer then you will get less salary because you do not have to code. On the other hand, a basic web designer needs to code in HTML, CSS, and JavaScript. But with our experience in the industry, we can say that a web developer's salary tends to range from $60k-$70k/year. Let us have a look at how top job review platforms compare web designer's salary.
| | | | |
| --- | --- | --- | --- |
| Platforms  | Average | Low | High  |
| Glassdoor | $52k/year | $38k | $75k |
| Payscale | $50k/year | $35k | $74k |
| Ziprecruiter | $60k/year | $21k | $114k |
| Salary.com | $65/year | $50k | $77k |
Analyzing the above data, the average yearly salary of a web designer would be about $57k in a year.
The best part of the data available above is that it is a collection of self-reported from web designers around the world. The accuracy is very precise. If you think the salary is not enough then it's just the basic salary, once you get steady in the job and get experience the number will definitely rise. If it makes you happy then you will make more than graphic designers, artists, illustrators, or photographers. And that leads us to our next section.
Web Design vs UI Design vs UX Design Salaries
Web design and UX/UI design complement each other. If we define UI/UX in terms of designing then it can be known as a specialized form of web design.
-> UI Designer
UI designers create web interfaces and usually focus on user experience. Their work is to perfect the spacing, layout, and interactions on the website. Being a web designer you will work at the big picture, selecting the biggest elements and UI designers will work on the smallest details. The average salary of a UI designer is said to be between $75k-$78k/year.
| | | | |
| --- | --- | --- | --- |
| Platforms  | Average | Low | High  |
| Glassdoor | $85k/year | $59k | $128k |
| Payscale | $64k/year | $44k | $92k |
| Indeed | $87k/year | $52k | $100k |
-> UX Designer
Then there are UX designers. The UI designers make the details look better but it's the UX designer's job to make it feel better when users browse the website. They usually work in creating flawless navigation of the site. They also make sure any animations on the website trigger at the right time for an amazing experience.
| | | | |
| --- | --- | --- | --- |
| Platforms  | Average | Low | High  |
| Glassdoor | $85k/year | $59k | $128k |
| Payscale | $74k/year | $50k | $108k |
| Indeed | $103k/year | $62k | $104k |
-> UI/UX Designers Combined 
UI/UX designers combined to handle both these jobs diligently. They need to be perfect UI designing and UX decisions to make a website better. The average salary of UI/UX designers can be established at $89k/year as per the below data.
| | | | |
| --- | --- | --- | --- |
| Platforms  | Average | Low | High  |
| Glassdoor | $85k/year | $59k | $128k |
| Payscale | $87k/year | $55k | $115k |
| Ziprecruiter | $96k/year | $62k | $121k |
As we can see that UI/UX designers get offered better salaries than web designers. The reason behind this is simple, it requires a more specialized experience and handles large projects ingeniously. On the other hand, no matter if the project is small or large, it requires a web designer.
Web Design Salaries by Experience
Every job pays differently when you have enough experience, and the same is followed in web designing salaries. More experience means more money you will have in your account. For starters, you may not get paid the amount you may have thought of and there is no wrong with it. You have shown your skills to get hired but now it's time to handle client's requests, work diligently under pressure, deliver on deadlines and that's what experience makes you learn. Here is the starting salary when you will start as a web designer:
| | | | |
| --- | --- | --- | --- |
| Platforms  | Average | Low | High  |
| Glassdoor | $50k/year | $36k | $70k |
| Payscale | $40k/year | $30k | $59k |
| Ziprecruiter | $45k/year | $31k | $59k |
| LinkedIn | $41/year | $31k | $58k |
But when you get 5+ years of experience, the numbers will change in your favor. Having years of experience means you must have worked on plenty of projects before. Let us have a look at the salary web designers are offered when they gain experience in the field.
| | | | |
| --- | --- | --- | --- |
| Platforms  | Average | Low | High  |
| Glassdoor | $64k/year | $46k | $90k |
| Payscale | $71k/year | $50k | $98k |
| Ziprecruiter | $82k/year | $42k | $130k |
The average salary changes to $72k/year for senior web designers means $30k more than juniors.
Freelancing Web Design Salaries
When companies hire web designers, the salary is confined to positions like junior and senior positions. On the other hand, freelancer's salaries differ a lot. They usually sign up on different platforms to connect with clients and take on projects on their own initiative. Although it is difficult to find out how much a freelancer makes as there is no data and place where freelancers report their turnout, so the income range can be quite variable. But still, let us try to find out the average salary of freelance web designers.
| | | | |
| --- | --- | --- | --- |
| Platforms  | Average | Low | High  |
| Glassdoor | $79k/year | $58k | $110k |
| Ziprecruiter | $56k/year | $24k | $112k |
The average turns out to be $68k/year which is seemingly a lot more than what juniors make. But freelancing comes with a different set of skills and challenges. Like you need to find your own clients. If you excel at nailing new clients then freelancing can surely give you a good amount.
WordPress Web Design Salary 
WordPress web designers also have the skills to work with different platforms. As a WordPress developer, you may have to work with HTML and CSS to design websites within the WordPress interface. You can also put your JavaScript and PHP skills to become a theme designer. Let us have a look at the average salary of a WordPress Web Designer.
| | | | |
| --- | --- | --- | --- |
| Platforms  | Average | Low | High  |
| Glassdoor | $53k/year | $38k | $74k |
| Payscale | $45k/year | $33k | $64k |
| Ziprecruiter | $55k/year | $31k | $91k |
WordPress design seems to be the easiest thing to set your foot in. Especially if you are a freelancer then you can get extra bucks by working for some client that needs some tweaks with their WordPress website. The average salary turns out to be $51k/year.
Should You Be a Web Designer?
There is no denying the fact that developers make more money than designers but pursuing a career in web designing is also a good idea. To be honest, making a career in development is not an easy task, web designing and web development are two very different things in the process of website creation.
Designers do all the planning and developers try to imitate that design to complete the work. Both the work can be complex depending upon the technicalities needed on the website. As a web designer, you need to take care of a more visual approach and create a functional beauty and developers will use programming languages. If you love planning and visual learning, then web design would be perfect for you.
Web development is a growing industry where companies and people need designers in the coming time. The salary is fair and the industry is also growing. It is a great time to be a web designer. Before you step into the field we suggest you learn the basics.
Endnotes
Web design might not be the highest paying job in its field but that doesn't mean it's not worth pursuing. You can easily make a great career out of it. As mentioned, the more experience you will have, the more you will earn. Starting out you will likely earn less, but stick with the field. You can get success if you know how to be a web designer and move ahead in your career.
Also read: How Much Does It Cost To Build A Website In 2022?
(Visited 231 times, 1 visits today)