Tutor App Development: How To Change The Educational Aspects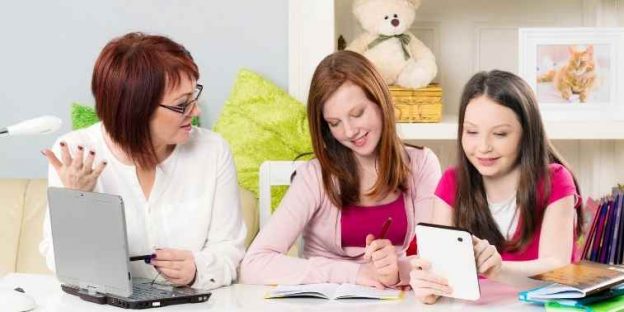 Expected to grow at a CAGR of 12% by 2023, e-learning is one of the fastest-growing on-demand markets. Just like Uber allows users to access the services with some clicks; an online tutoring app will help students learn remotely in just some clicks. The tutoring app is among the many on-demand applications that have been successful in reduct=ing the gap between supply and demand.
The concept of teaching has been monotonous throughout our lives. But with the introduction of technology, tutor app development solutions have revolutionized how students learn. The introduction of the coronavirus pandemic has acted as a fuel for all the students to learn remotely. There is a lot of demand for an online tutoring app in the market. If you wish to own a tutor application, you can ask for help from mobile app development companies in India. Here is a complete guide to help you make the process right.
How Does an On-Demand Tutor App Work?
There is a systematic procedure followed by an On-Demand Tutor App to ensure smooth functioning and easy accessibility to not just the students but also the teachers. Here are some of the basic workings of a tutor application.
1. Students and tutors can register themselves on an iOS or Android mobile application. If you wish you can also create a web application.
2. Teachers can then upload their required certifications and documents for background verification. This ensures only qualified teachers provide the services on your mobile app.
3. After the approval of the admin, the tutor will be able to receive students' requests for teaching.
4. Tutors will also have the power to accept or reject student's requests.
5. When a student makes a request and pays, the request is sent to the tutor. Once the tutor accepts the request, they receive the payment immediately.
6. Tutors can either start online sessions with their students or go to their homes with the help of in-built GPS.
7. Feedback and rating of the class and the tutor can be submitted by students after the class is over.
How Online Tutoring Apps are changing the way people study?
Technology is creating ease all around the world. It is not just about studying in the comfort of your home but also about keeping up with the changing dynamics of the world. People are scared to move out, thanks to the coronavirus pandemic. Here are some of the ways in which the mobile app is helping a lot of people around the world.
1. Making Administrative Tasks Simpler
Administrative tasks for teachers and academic institutions are getting automated with the assistance of tutoring mobile applications. Evaluation of taste done by the students and providing them with valuable feedback have become easy too.
2. Redesigning Learning Spaces
In most of the classrooms, it is practically not possible to arrange all the desks in the front row. With the integration of technology, it has become easy for the students to learn better and from the front. Learning smart is the whole idea behind creating a tutoring app.
3. Global Learning
People around the world are looking forward to gaining knowledge. From wherever it might come, people will embrace even if they learn something within the border or cross the border. A mobile app for tutoring will have the power to escape all the boundaries and facilitate the learning of people around the world.
4. Personalized Learning
Every single person has different learning needs and with these iOS and Android tutoring mobile apps, you will be able to help all the people learn at their pace. If Netflix has it, why not a learning app that can have personalized recommendations? Integration of assignments and exams can make it a very useful mobile app for all the ones who are looking forward to learning.
Some of the Best Tutor Apps
In the plethora of available tutor applications, here are some of them that can help you understand which features you can use.
1. Chegg Tutors- Online Tutoring

Chegg has a vision statement, "We strive to improve the overall return on investment in education by helping students learn more in less time and at a lower cost." This mobile app allows students to excel and go beyond their academic experience. With the Chegg study app, you will be able to get real help in no time.
Features of this Tutor Application:
=> Math, business, physics, engineering, chemistry, and many other subjects are available on this mobile app.
=> As little as 30 minutes are required to receive a detailed answer-back. With services available twenty-four by seven.
=> There is a library of 26 million fully solved homework questions in which you can search your answers.
=> Some of the popular questions have video solutions. There are thousands of solutions available in video format.
Tutor App Download Cost: Free
2. Elite Instructors- Smart Trainers

One of the most popular choices for tutor applications, Elite Instructors is one of the smartest ways to connect teachers, students, and their parents together. The services for this academy are available over Android mobile apps and web-based applications. Communication, sharing, learning, and organizing of classes become easy with the help of this tutoring mobile application.
Features of this Tutor Application:
=> This is a mobile application that helps parents to connect with their students and learn about the class. Parents can access features like Diary, Personal Comments, Events and Galleries, Insta Alerts, Holiday, and many more.
=> You will be able to share real-time updates of your class with the help of the application available on the Android operating system.
=> Sharing class activities and curriculum with parents is enabled by the Fun n learn Feature available on the app.
=> The app makes information available to the students everywhere and anywhere.
Tutor App Download Cost: Free
Available On: Android
3. Khan Academy – Education Tutor App

As per the Khan Academy description on Play Store, "Our mission is to make free, world-class education available to millions of learners in India and around the world." A free learning app for Class 1-12 students, Khan Academy provides its students' videos, exercises, and tests for math, science, and more subjects. The content available on this iOS and Android mobile application is aligned to NCERT and CBSE syllabus. This tutoring application is inclusive and helps people from around the space by providing content in Hindi, English, and many more regional languages. More than 10,000 videos and practice exercises are available in math and science.
Features of this Tutor Application:
=> This tutoring application has more than 40,000 interactive practice exercises available with instant feedback and step-by-step clues.
=> You can easily access your favorite content by bookmarking it. Downloading of that content is also available for the students to avail themselves of the services even when they are not connected to the internet.
=> subjects like math, biology, chemistry, history, economics, finance, grammar, physics, preschool learning and more are available on this mobile app with 10,000+ videos and 50,000+ exercises available.
=> Khan Academy is used by more than 200,00 teachers in India. Khan Academy's learning app and coach dashboard assist in providing personalized attention to students.
Tutor App Download Cost: Free
4. Tutor.com- Princeton Review's Homework Help

With experts available anytime and anywhere, Tutor.com works with learners of all ages. Be it elementary school, high school, college, graduate school or adults continuing education and career transitions are possible with this tutor app. Are you working on math homework, your resume, need help with self-studies, or preparing for SAT? Tutor.com mobile app is ready to help you with all the problems.
Features of this Tutor Application:
=> 1-to-1 help in academic classes with live tutors, and study skills and test prep is easily accessible with this mobile app.
=> SkillsCenterTM Resource Library allows you to go through thousands of test-prep and educational resources.
=> Past tutoring sessions can be saved and reviewed for later use as well.
=> Tutor.com Locker can be accessed to store the essays, assignments, and homework problems you wish to store.
Tutor App Download Cost: Free
5. WyzAnt – Private Tutors App
Connecting parents and students with the help of a tutoring mobile app, Wyzant is home to expert tutors for in-person and online lessons. To start, you answer a few questions and this, one of the best tutor apps, will introduce you to the experts. Adding payment information and booking lessons becomes easy with the help of this mobile app. Connecting to tutors that perfectly match your schedule and needs is easy as well.
Features of this Tutor Application:
=> Compare tutors by viewing the reviews and ratings available on the mobile app for iOS and Android.
=> Access the background information of the tutors and the fees they charge for the tutoring.
=> Summaries of the lessons you have learned and messages are available in one place.
=> You can choose to receive notifications of your upcoming lessons and other important stuff.
Tutor App Download Cost: Free
6. Yup- Math Tutor App

Are you stuck with homework or you want help with your studies? Yup, a Math Tutoring App, is ready to help you find expert math tutors online. Wherever you are, whenever you want, Yup app tutors are available for you over the internet with the help of an Android and iOS mobile app. Available 24/7, Yup tutors are experts in their field.
Features of this Tutor Application:
=> Click a photo of the math problem you are stuck with and connect with the tutor right away. You will be able to solve the problem at hand together allowing you to understand better.
=> Customised plan is available for children. Where you will be able to choose Yup membership for a complete year or for a semester as per requirements.
=> Former teachers, professional tutors, and graduate students are available on this app having an average experience of five years.
=> Early Math, Pre-Algebra, Algebra, Geometry, Trigonometry, Pre-Calculus, and Calculus AB are available on this mobile app.
Tutor App Download Cost: Free
Bonus Blog: How to Develop Learning App like BYJU's and Toppr: Growth, Benefits, Features, & Cost
The Basic Framework and Features of On-demand Tutor App
The basic frameworks and features you include make your app either win or lose. Making the process right will make all the difference. Some people lead while some find a way to just be discovered; all the difference lies in the user experience both these mobile apps provide. Features you must add to your tutor application include:
USER (Student) PANEL
Students will be the users, using the application to find suitable tutors for themselves. If you wish to lead, you must hire some of the best available mobile app developers for iOS and Android for your mobile application.
-> Direct & Social Media Login: This is the most important step. Login is the first page that people land on. This page not only requires to be attractive but also needs to provide multiple options to the users. Students must be able to log in from social media or by providing simple details such as email addresses and mobile numbers.
-> Browse Tutor: This functionality will be required by students to find their perfect tutor match as per their requirements. You can provide filters related to tutoring experience, course specifications, and more.
-> View Tutor Details & Reviews: This feature can differentiate your iOS and Android mobile app from many others. Students who have already taken the class can review the teacher or class in particular. These cumulative ratings are made visible to all the other people willing to take the same class from the same tutor.
TUTOR PANEL
Another feature of online tutor app development is the tutor panel. Some of the features of this panel are similar to the student panel. Here is the list of items you would need:
-> Profile Setup: Like students, tutors can also set up their profiles. Here too, they must have the ability to signup and sign in using basic details or social media.
-> Change Availability Timings: Every tutor will have some timings they will be available for tutoring. Controlling of this available time must be editable by the tutors themselves according to their convenience.
-> Accept/Reject Requests: Tutors will have the power to accept or reject the requests they receive from the students for tutoring. This can be due to the unavailability of a schedule or any other personal reasons.
-> View/Edit Bookings: There can be specific sections for the tutors in the tutoring app where they will be able to view all the booking plans. Here, they will also be able to edit the bookings they have.
-> Check Weekly & Monthly Earning: One of the primary aims of many tutors to be on your app is to earn some money. In this section, teachers must have the ability to check their monthly and yearly earnings. This can be represented in the form of pie charts or graphs to help them learn better about the growth of their profile.
-> Chat with Students: Being able to chat with the students is one of the best features that both students and teachers love. Here both the people will be able to share pictures and messages with each other and get the queries solved.
Online tuition app development has humongous possibilities for both, the tutors and the students. How you imbibe these and their smoothness will help you attract a loyal user base for your one among the best tutor mobile apps.
ADMIN PANEL
The backend of tutor app development in your hybrid mobile app will measure how things work as a whole.
-> Efficient Analysis: Maintaining a convenient track record and storing it for future purposes must be enabled by your tutoring mobile app.
-> Statistics: If you are able to view statistics you can make many things right. You can view preferred locations, prefer tutors, and moreover what people like and dislike on your iOS and Android mobile application.
-> Manage Tutors & Their Services: admins will be able to send notifications to the tutors and manage their services and the amount of customization they are allowed to do.
-> Students Manager: Just like tutor services, students can also be managed and sent notifications to.
These are some of the basic features that must be a part of your mobile application. If you wish to earn great ROI and strong results, you must not skip on these basic features.
Tutors Finding Mobile App Development: Advance Features to Include
With the help of your mobile app development team, you can launch these in phases or if you wish, you can launch the full-fledged app in one go.
Push Notifications: This is one of the advanced features that every app must include. Push notifications help you in keeping connected with your audience. With this feature, you will be able to inform your students and teachers about the upcoming class they have. Not just this, you can also attract students by providing them with exciting offers. A push notification at the right time can keep your students and teachers retained.
Payment: An on-demand tutor app remains unfulfilled without the use of secure payment methods. There must be multiple payment options available like PayPal, debit card, and credit card. You can also provide an EMI option to your students, where they will be able to pay their installations for the classes that are huge in amount.
In-App Conference Calls: Conference calls will help students to learn with the questions of each other and make the session interactive and fun. The tutoring app can also have the ability to mask the numbers of students and teachers making the ultimate experience safe for all the users.
Tracking: Admins and teachers must be able to track the location of students with the help of GPS. Real-time tracking will help teachers reach the location of students efficiently without any problems.
Technology Required for Tutor Finding Mobile Application
An on-demand tutor app must be able to meet the varying demand of the users. A tutoring app that is technologically sound will be loved by all users. You can become the industry leader if you are able to provide a seamless experience to your customers. Here are some of the technologies that can help you take your customer's experience to a new level:
-> Push Notifications Twilio, Push.io
-> SMS, Voice, and Phone Verification -Nexmo, Twilio
-> Payments  Braintree & PayPal, Stripe, EWallets
-> Database  MongoDB, Hbase, Cassandra, Postgres, MailChimp Integration
-> Cloud Environment  AWS, Google, Azure
-> Realtime Analytics  Hadoop, Spark, BigData, Apache Flink, Cisco, IBM
You can also ask your mobile app developer to integrate artificial intelligence as well to provide an extremely personalized experience for your users. This is recommended for an advanced app that has advanced features.
Conclusion:
Learning never ends and the tutoring business will flourish too. Helping people with their homework and general studies becomes easy with the use of a tutoring application. Consult an IT outsourcing company in India today and be part of the esteemed group of leaders. The most important part of any application development is doing it right. Innovation and the best mobile app developers can make your app a very famous one.
Read Next: Best 10 Free Educational Apps for Students
(Visited 147 times, 1 visits today)