Law Firm Mobile App Development Including Cost & Features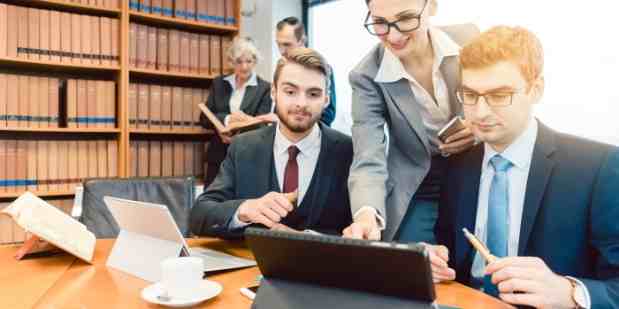 Every industry is thriving because of the invention of mobile & mobile applications. Mobile phones have come a long way as they are now capable of doing a lot, many things which could have never thought. As every industry is trying to move ahead, the legal industry is also not behind as they are also making difference through mobile applications.
As 85% of users are spending most of their time on mobile apps instead of browsers, this shows the importance of business done through mobile application. It is not 2011 anymore where people do not have access to smartphones. Even if you are from the legal industry, you can easily find a way to connect with the interested people through mobile application development.
How a Law Firm can Benefit from Mobile App?
If we go with the numbers then more than 80% of internet users search for lawyers online in the US only. Out of these 80%, 35% of searches from smartphones & tablets. Users are shifting from website to mobile application as they are easy to use & quickly accessible. Going with statistics, people spend 88% of their time & just 14% to search the web. These numbers are increasing day by day, whereas browsing is certainly decreasing day by day. So it is one of the reasons why your law firm should consider mobile app development for your enterprise as it will connect you to connect with the right audience, giving you more opportunities as a business. Let us have a look at more benefits of mobile apps in the legal industry.
-> A custom mobile app development can increase efficiency within a law firm
-> Makes the client management more organised
-> Increases productivity of your law firm
-> Enhances client satisfaction
-> Makes sharing information easy with the employees
-> Makes stay in touch with clients easy as it makes you accessible
-> Works as advertisements in front of your potential clients
-> Keeps you ahead from your competitors
-> Helps in keeping every space at one place makes it easily accessible at one place
-> Mobile app development makes it easier for the clients to access the new updated cases
Different Types of Law Firms
Before you start with any type of law firm application development you need to underline the main purpose of the application. There can be many purposes of a law firm mobile application development as you need to select which one will dedicate your mobile app.
Out of total law firm mobile app development, 4% are for recruitment, 12% for the events, 20% are for usual firm & client communication, 64% are for resources & tips for many types. 70% of these are done as android mobile app development, while rest 30% are created as ios mobile app development. Now you understand mobile app development for law firms is not only about customer care. In Fact it is not just limited to the clients as you have other options like media & publisher, as well as various members of the legal community. So, legal apps can be categorised into two:
1. Apps providing services to attorneys
2. Apps providing services to clients
Attorney Oriented Law Firm Apps – It is a very beneficial application for the attorney as it serves professional purposes. It's usual for us to facilitate the daily routine of the lawyers. Such functions help in professional networking with colleagues, consist of recruiting, chats, recording of meetings, taking notes, setting up meetings, hotel & flight bookings, share documents, manage documents, list etc.
With all these features in an indigenously developed mobile app development, you can get a solution that can enhance the productivity of your law firm. Your partners can easily access this application as they will have all the information related to the firm's services. In this advanced era, you can even have the option to electronically sign the contracts. The legal mobile app development allows the user to download the documents from the library & can submit the legal documents manually, working at their own pace. With the application, you can save the user's information on the back part of your mobile app or use cloud technologies. It makes the process easy & transparent for both your law firm & the customers.
Customer Oriented Legal Apps – Earlier, legal apps were only about the law brochures & there wasn't much it offered in terms of functionality & feedback. Once it started becoming recognized, legal firms with the mobile app started offering the best services to their clients in order to boost credibility & promote customer loyalty. They made advancements in the application & made it easy for the users to schedule appointments in writing instead of dialing a number to book an appointment. It made their application powerful & impressive with an enhancement in client engagement.
These advances in the legal firm mobile app development made the communication between the customers & the lawyers in the firm easy. Lawyers can easily create legal documents on a customer's phone. Top features like push notifications can help in sharing every legal step with a particular user. It increases the user experience, as it is able to provide a seamless experience.  
What are the Features of Law firm Mobile Application?
Legal app consist of four panels, which are: 
-> Super-admin panel
-> Law firm web panel (Attorney)
-> Employee app web panel (Lawyer)
-> Client app
| | |
| --- | --- |
| Features of Law Firm Panel | Features of Lawyer Panel |
| | |
| The verification process for genuine customer | The attorney handling the assigned case gets notified with all the information from the client's end.  |
| List of Services the attorneys offer | Lawyers handling the case can access to create, manage notes & documents.   |
| Easy management, bookings & documents | |
| Calculating expenses for every case | Handling case with the client  |
| Sharing bulk information to clients, employees at one time. | Chat with the firm & the clients  |
| Easy messaging for communication between attorneys, lawyers & employees. | Push Notifications to share everything with a client |
| Updates in the form of emails & push notifications | Adding all the expenses related to the case, so it can be tracked by the law firm.  |
| Referrals & another discount  | Manage Profile, lawyers are allowed to manage their cases, add experience, update account info & reset passwords. |
| The dashboard displaying every activity, reminder, meeting, etc.  | |
| Sign Contract, a firm can easily send a contract with signature & firm seal to the client to sign the same. | |
| Managing Subscriptions, payments & access to panels.  | |
| Real-Time reporting & analytics  | |
| | |
| Calculator for displaying actual days of the case being handled by the lawyer & when the case was relieved. | |
| | |
| | |
| | |
| | |
| | |
| --- | --- |
| Features of Client Panel  | Features of Super Admin Panel  |
| | |
| | Dashboard offering overall statistics |
| | Managing firms & user profile |
| Send documents & sign contract | Subscription Plan, add new plans & manage them |
| | Online support to help others  |
| | Content Management System to manage system content, both in text & image form.  |
| Activity & payment invoice | |
| Managing profile & online support  | |
| Push Notifications & refer the app to friends | |
Law Firm Mobile Application Features
CRM Integration – It can be integrated in order to manage client's relationships & communications as they can get help from instant help on call & chat.
Cloud Store Integration – It allows storing the user data in full security & privacy.
End to End Encryption – This makes it easy for the lawyers & the users to share the information through secure end-to-end encryption in mobile app development.
GPS Integration – You can hire mobile app developers to integrate GPS integration so users can find nearby law firms.
Social Media API – This API helps users in connecting social media accounts to the law firm application.
Translating Voice into Text – This advanced feature helps you convert voices into text. It can be beneficial as users can share voice messages.
Role-Based Dashboard – There can be a super admin who can manage the dashboard for users & if the user has paid then the admin can get customized dashboards for those users or his employees.
Post Release Services – It allows users to get services even after the project has completed like error solving or anything else.
In-App Video Chat – This advanced feature during mobile app development can be helpful for lawyers, agencies & users.
Document Scanning – Allow lawyers to scan documents at the time of meeting.
Some of the Most Popular Legal Mobile Applications
Bird & Bird – It belongs to an international firm that has quite a few general applications on the Apple Store & Google Play store. It is one of the most downloadable apps as it makes the work of marketers easy with its online marketing as per country.
Sheppard Mullin – This mobile app development belongs to one of the biggest & Top American Law firms. It deals with financial & corporate law for many clients from Fortune 500 companies. They have an application for both android & ios platforms as this app also helps students in preparing for the interviews & exams.
Allen & Overy – Allen & Overy is among the biggest law firms in the world with more than 5000 employees, that work in 44 offices & in 31 different countries. Their ios mobile app development handles requests related to personal data the company stores.
How Much Does it Cost to Develop a Law Firm Mobile App?
As we have already mentioned there are a lot of factors that we need to take into account for mobile app development for any business. First, how much does it cost to hire mobile app developers in your country or outsourcing it is a better idea. Secondly, whether it will be android app development or ios app mobile app development, or cross-platform mobile app development.  If you outsource it to countries like India, then you can easily get an amazing application at minimum investment, however, you need to pay a hefty price for mobile app development in the US or Europe.
Also Read: Law Firm Website Design Company
Best Lawyer Website Development Company
Best Attorney & Law firm Logo Designer
(Visited 309 times, 1 visits today)