Internet of Things in Healthcare: Applications, Benefits & Challenges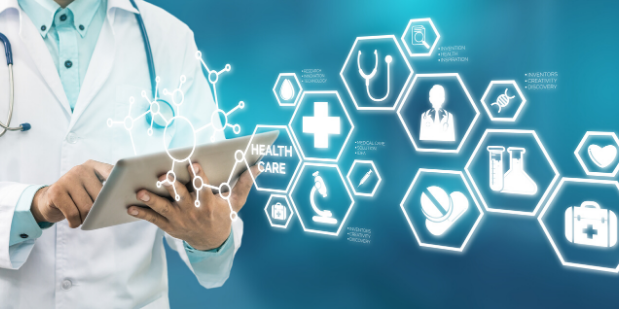 The healthcare industry is in a state of great despair. There are new diseases evolving day and day, the price for healthcare services are costlier than ever. People need to be aware about these diseases and need a more transparent way and less costly way to get treatment. As a human being where we are approaching a world where basic healthcare would become out of reach to most people, a large section of society would go unproductive owing to old age and people would be more prone to chronic disease.
However, this is not the end for all of us, IoT app development is at our rescue. With new diseases evolving in the market, the technology is also growing day by day. While technology can't stop the population from aging or eradicate chronic diseases at once, it can at least make healthcare easier on a pocker and in terms of accessibility.
For instance, medical diagnosis consumes a large part of hospital bills and if technology moves the routines of medical checks from a hospital to the patient's home then there will be less need of hospitalization and people need to pay less. A new paradigm, known as the Internet of Things(IoT), has an extensive applicability in numerous areas, including healthcare.
The IoT technology gives a new angle to the healthcare area, it allows medical centers to function more competently and patients to obtain better treatment. With the use of this technology-based healthcare method, there are numerous benefits which could improve the quality and efficiency of treatments and accordingly improve the health of the patients. Let us dive deeper and look at every aspect of IoT in the healthcare sector.
Internet of Things in Healthcare Benefits
1. Simultaneous Reporting and Monitoring
Real-time monitoring can be really beneficial and save lives in event of a medical emergency like failure, diabetes, asthma attacks, etc. With real time monitoring, patients don't have to go for regular checkups, as the information gathered by monitoring can be connected to medical devices to a smartphone app, that can collect data and transfer collected information to a physician. The Center of Connected Health Policy Conducted a study that indicates that there was a 50% reduction in 30 day readmission rate because of remote patient monitoring on heart failure patients.
The IoT device can collect and transfer health data for blood pressure, oxygen and blood sugar levels, weight, and ECGs. This data is stored in the cloud and can be shared with an authorized person, who could be a physician, your insurance company, a participating health firm for an external consultant, to allow them to look at the collected data regardless of their place, time, or device.
2. End to Connectivity and Affordability
IoT can automate patient care workflow with the help healthcare mobility solution and other new technologies, and next gen healthcare facilities. It enables interoperability, machine to machine communication information exchange, and data movement that makes healthcare services delivery effective. Connectivity protocols: Bluetooth LE, Wifi, Z wave, ZigBee, and other modern protocols, healthcare personnel can change the way they spot illness and ailments in patients and can also innovative revolutionary ways of treatment. Consequently, technology-driven setup brings down the cost, by cutting down unnecessary visits, utilizing better quality resources, and improving the allocation and planning.
3. Data Assortment & Analysis
It can be really difficult to manage and access the data that a healthcare device sends in a very short time owing to their real time application if the access to cloud is unavailable. Even for healthcare providers to acquire data originating from multiple devices and sources and analyze it manually is a tough bet. And that's where IoT can be really useful for us. The IoT devices can collect data, report and analysis and the data in realtime and cut the need to store the raw data.
This all can happen overcloud with the providers only getting access to final reports with graphs. Moreover, healthcare operations allow organizations to get vital healthcare analytics and data-driven insights which speed up decision-making and are less prone to errors.
4. Tracking & Alerts
On time alert is critical in event of life-threatening circumstances. Medical IoT devices gather vital data and transfer that data to doctors for real time tracking, while dropping notifications to people about critical parts via mobile apps and other linked devices. Reports and alerts give a firm opinion about a patient's condition, irrespective of place and time. It also helps make well-versed decisions and provide on time treatment.
Thus, IoT enables real-time alerting, tracking, and monitoring, which permits hands-on treatments, better accuracy, apt intervention by doctors and improves complete patient care delivery results.
5. Remote Medical Assistance
With mobility solutions in healthcare, the medics can instantly check the patients and identify the ailments on to go. What if the doctors are many kilometers away then in such conditions IoT can be really helpful. The numerous healthcare delivery chains that are forecasting to build machines that can distribute drugs on the basis of patient's prescription and ailment related data available via linked devices. IoT will improve the patient's care in hospitals. This in turn, will cut people's expense on healthcare.
6. Research
IoT for healthcare can also be used for research purposes. It's because IoT enables us to collect a massive amount of data about the patient's illness. This is really important because it would have been taken many years if we collected it manually. It supports medical research, so IoT not only saves time but also our money which would go into the research. IoT is also used in variety devices that enhance the quality of the healthcare services received by the patients. Even the existing devices are now being updated by IoT by simply using embedding chips of smart devices.
Internet of Things in Healthcare Challenges
1. Data Security & Privacy
Data security & privacy is really important when it comes to using the latest technology. And it is one of the significant threats that IoT poses is data security and privacy. Most of the IoT devices lack data protocols and standards and there is significant ambiguity regarding data ownership regulation. And all these factors make a way for cybercriminals who can hack into the system and compromise Personal Health Information of both patients as well as doctors. Cybercriminals can misuse this information to create fake IDs to buy drugs and medical equipment which they can sell later.
2. Integration: Multiple Devices & Protocols
Integration of multiple devices causes hindrance in the implementation of IoT in the healthcare sector. And the reason behind this hindrance is that device manufacturers haven't reached a consensus regarding communication protocols and standards.So, even if the variety of devices are connected, the difference in their communication protocol complicates and hinders the process of data aggregation.
3. Cost
Surprised to see cost considerations in the challenge sections? I know most of you would be; but the bottom line is: IoT has not made the healthcare facilitates affordable to the common man yet. The boom in the Healthcare costs is a worrying sign for everybody especially the developed countries. The situation is such that it gave rise to "Medical Tourism" in which patients with critical conditions access healthcare facilities of the developing nations which costs them as little as one-tenth. IoT in healthcare as a concept is a fascinating and promising idea.
Applications of IoT in Healthcare
The scope of Iot is going to increase no matter what because of its applications in various sectors. Even in the healthcare sector it has a lot applications which as follows: 
a. Reducing emergency room wait time
b. Enhancing Drug Management
c. Ensuring availability of drug hardware
d. Tracking patients, staff and inventory
IoT has also come up with some wearables that have made the lives of patient's simple. So, let us look at a few wearables possible because of IoT technology.
Hearables – These are for the people who face difficulty in listening. These hearables are new age hearing aids which have completely transformed the way people who suffered hearing loss interact with the world. Many hearables are available that are compatible with Bluetooth which syncs your smartphone with it.
Ingestible Sensors – These are very small sized sensors which are able to monitor the medication in our body and warms us if it detects any irregularities in our body. These sensors are boon for diabetic patients as it would help in curbing symptoms and provide with early warning diseases.
Moodables – Moodables are tiny devices which can help us in improving our mood throughout the day. It sounds like a fictional device but name neuroscience is able to prove it.
Healthcare charting – IoT devices such as Audemix reduce much manual work which a doctor has to do during patient charting. It is powered by voice commands and captures the patient's data. It makes the patient's data readily accessible for review. It saves around doctors' work by 15 hours per week.
IoT has the power to change the way we tackle the health of the patients and can be a boon for the healthcare industry. These technologies improve the product, and can be a revolutionary for us.
(Visited 195 times, 1 visits today)