How to Develop an On-Demand Laundry App?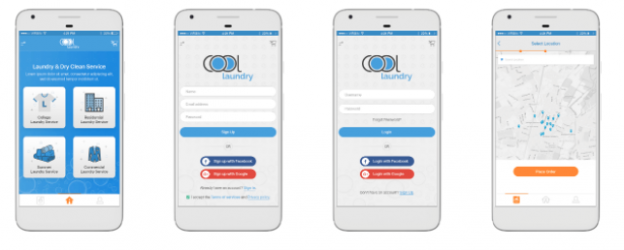 Last minute panic on dark stains, here is the best solution than dry cleaning. So many ad scenes have been seen but never tried with those and we all go for dry cleaning all the time. But in running life, no one has time to go visit, stand in queue and wash their clothes. As everyone is busy and needs sophisticated life to lead.
Being a part of a dynamic world, faced a lot of problems to track every single task and do everything precisely. On-demand apps have effectively simplified work while keeping us along in the fast-paced world. The app not only disintegrates the work into small tasks but is handsomely packed with new solutions.
See the world of apps is completely changed today, it was none similar in the past. There are a lot of new features are plot in the apps. Business tycoons and entrepreneurs are more innovative than past. In the laundry application, there are many options to cater to customers to make them aligned with you for a long time.
While categorizing the customer's demand, services, and goods, as an integral part of the service industry on-demand laundry service apps came into existence. It states that the global dry-cleaning & laundry services market size was valued at USD 60.88 billion in 2019 and is projected to show an annual growth of 3.4% from 2020-2027.
On average an individual spends an hour per month washing clothes to save time and solving problems with fingertips is easy with apps like on-demand laundry services. Laundry apps are customized to the use of customers. It is developed in a way that promotes users to save their water consumption and time of course.
But how to develop such apps has features to include how it helps users. Let's have a look.
Work process- Steps to develop the Laundry app
Mainly laundry goes through 4 steps in the process;
1. Order – this function works in favor of the consumer to place an order with the time of pickup and drop.
2. Pickup – a feature that is relatable to the delivery person helps in collecting things from customers at the required time.
3. Laundry – agencies or stalls that perform the laundry work.
4. Drop-off – again this helps in the delivery of the clothes at the right time.
What are the features of the Laundry app?
1. Customer benefited features –
It includes the personal information of the user and their other details that are mandatory to be mentioned. The customer can do;
-> Register and log in
-> Service options and details
-> Schedule pickup and drop
-> Track order(Location)
-> Order history
-> Review and rating
-> Online payment
2. Delivery added features –
When a customer leaves an order, it goes to the delivery app. Within this app, employees can:
-> Complete order maintenance – from picking to till drop-off.
-> Confirm orders
-> Location management – to pick up and drop off.
-> Have authority to change order status.
3. Laundry management –
The laundry management has all control over order numbering, type of service, and other details.
—> Client data
—> Order history
—> Analytics about the orders
—> Data about the customer order
—> Map and calendar view
—> Dashboard
Advanced Features for Laundry App
Apart from the basic features, the laundry app sustains many advanced features for users. These features are unique and fulfill the user at the time of need.
However, competition in the present market is so intense that coming up with better features and attractive sectors implementing new services would make a difference.
1. Reminders – the most important even though humans have better IQs they fail in keeping reminders of small things. This feature can remind users about these scheduled laundry pickups so they can either confirm the pickup or reject it.
2. Unique feature – as the demand increases the supply increases, so increase the supply with interesting sectors that in turn attract the user. Some features like a snap of the same particular stain to remove and pick up or doorstep delivery. Still, more can come up with better ideas and creativity.
3. Eco-friendly –  keep up with this trend and organize a toxin-free laundry. In addition, can offer consumers biodegradable packaging and the opportunity to choose between scented and unscented cleaning.
4. Better offers – have subscription options that provide a big discount over laundry this helps in better service to customer satisfaction. And also customers won't stop using apps as they have subscriptions.
5. Additional care – have creativity with imagination and think from the customer's point of view and implement the application that would provide ideas like pop notifications, escape buttons, and some laundry services advantages.
6. Customer satisfaction – The main goal of an on-demand laundry service is to provide users with a satisfying customer experience. separating clothes in order to provide your clients with maximum comfort. Also, it's better to arrange around-the-clock delivery and make sure that these time frames will suit the majority of your current and potential customers.
Why should go for on-demand laundry apps?
We have here mentioned a few reasons what the customer is looking for and why they are pleased with on-demand solutions for laundry. Here are the two reasons we have found for it.
1. Quick way to unpleasant service – the younger generation is lazy when it comes to household courses in clothing and all, they want to enjoy time in meeting friends, parties and so on. Existence of these apps with the flexibility of pick up and delivery at the doorstep is so beneficial.
2. Compatibility to new entrepreneurs – you own a laundry business and if it is under loss be the entrepreneur of your own online siting which helps in advancing business and gives better property being online than remote.
Top Mobile Apps for Laundry Market
You can't deny the presence of other competitive apps in the market already. For your business venture, it is crucial to start developing the app only once you should understand its role in the market. Seriously it is waste of time  If you have come up with the solutions that already exist. There those applications will be of no use. Always plan before what solutions you want to give inside the app. How the app function and is the features are in demand or not. Any irrelevant feature is just an increased cost and is of no use.
So let's discuss a few mobile app competitors for laundry apps in the marketplace.
1. Laundry app –
it is a UK-based app that offers a platform to connect with on-demand dry cleaning and laundry services. At the present moment, the app has expanded and ruled the market of the top 5 countries. The app is featured with top services which users are always looking for.
2. Washio –
The app is no longer working for the laundry service and operations but it has managed to set a milestone for the upcoming apps. The reason that Washio was not able to complete the process was due to its limitation and profound issue. The app is known to deliver superfast services to distant places to the users.
3. Rinse –
The app has given exposure to the target customer to attain a top-class app-based laundry service. Rinse is one of the most superficial app promise to give all-time laundry services to its customers.
We have an Ultimate Guide to Mobile App Development in 2023. It will definitely motivate you to develop new mobile applications for your business.
Conclusion
The on-demand laundry app has a huge scope of competition with so many apps. So developing an application is not only about the business and features it's more than that about the technology importance and type of programming all the things.
Keeping all those things with the example above given shows the success and failure of the app reminding us that also develop the app with care and betterment so that users should never deny it and have updates always with extra features and enhancements that's how it helps in keeping up the work to stand in the market.
VerveLogic can be your one-stop solution for mobile app development and web development because we have a team of experts and market experience. You can get your app or website developed at the best price possible. Also, if you are looking for branding solutions or online marketing for your brand then you should check out VerveBranding and Verve Online Marketing today and make your brand stand out. We hope we have solved your every query regarding the app icon and how to create an amazing app icon. Let us know in the comments and questions.
More info: https://www.vervelogic.com/vl-laundry-app.html
(Visited 123 times, 1 visits today)