The 8 Best Apps for Dog Lovers in 2022
There are mobile apps for everything and anything at present. From booking your next ride to reserving your seats in restaurants, you will find a solution for almost everything. But still, there are many less-known apps in the market that can be very productive to a certain audience. Well, Amazon and Google don't have all the solutions to our problems. The other applications help the end-users to keep track of other important tasks on their end. And the mobile apps for dog owners come under this corner. Yes, today we are talking about the best apps for dog lovers in 2021.
The idea of finally having a dog seems amazing until you bring one home. Even the process of hiring a dog can be complex and not handled in a better way. So, there are several types of dog apps in the market that are invented to make things manageable for the owners along with having fun with your pet. The listed applications offer numerous features like monitoring your dog while you are away, keeping a track of your dog's daily routine, keeping an eye on its fitness and health, and much much more.

However, the challenge lies in knowing which dog app to invest in which dog app as there are numerous apps in the market. You need to find the application which suits your needs and requirements so you and your dog both love this application. It can be daunting to find the right app for you. So, to make it easier for you, we have compiled a list of the best dog apps that are developed by the top mobile app development company. Each of these applications is highly praised and rated on the Google Play Store and App Store and perfect for dogs, owners, and lovers. Without further ado, let us have a look at the best dog apps available in the market.
Best Apps for Dog Lovers in 2022
1. Chewy
Chewy is an online eCommerce company but not for humans. It is an American online retailer of pet food and other supplies. Chewy is known for its huge variety of toys, foods, medicines for pets and dogs at a very affordable price. Along with its website, you will find its counterparts android app and iOS app on the phones of most pet owners. It offers a clean and clutter design which makes it easy for you to order supplies and toys for your dog.
Chewy also offers auto shipping right at your doorstep so you do not need to head out every time you run low on your dog food. Since they offer many discounts from time to time, subscribing to their website or app surely offers you great convenience and savings. Well, owning a pet is not an easy job as you need to dedicate your time and money both to keep them happy and fit. Moreover, dogs are not our whole life, but they make our lives whole. They deserve every ounce of our love so shower them with everything you want from Chewy.
Download the best apps for dog lovers for Android | iOS 
2. PetCube 
When it comes to dogs, they love to have treats and it is rewarding for both the owner and the dogs. Petcube offers an amazing and unique service at the same time. Petcube comes with a physical camera and treats dispensers so you can stay in touch with your dog when you are not at home. Well, it started as a camera that is designed to monitor your pets with an option to add treat dispensers that you can trigger from anywhere for your dog. You can talk with your dog or give them instructions as it comes with a built-in microphone and speaker. If your dog listens to your instructions the device will reward them with a treat. It is always fun to find new ways to engage with your dog, as Petcube allows you to connect with your dog in the most creative manner.
Download Petcube the best dog scanner app for Android | iOS
As we are talking about mobile apps let us have a look at how mobile apps are becoming a transformative force for grocery retail.
3. Whistle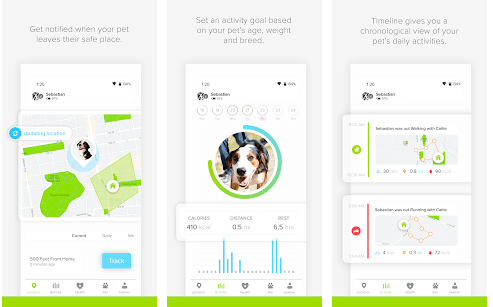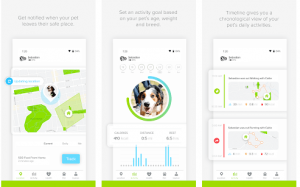 When you have a dog at your home, you must be concerned about your dog escaping the fence in the backyard. Similarly, there are many worries with dogs like becoming overweight or getting any kind of injury or ailments. So many people install cameras at different points in their homes in order to keep their dogs safe and they never get in an uncomfortable condition. But what if you run out of luck in tracking them down and you end up with any kind of injury. Here come the services of Whistle.
Whistle is a top dog activity tracker app that locates your dog if they ever run away free. We all know that even well-trained dogs can become distracted and can easily run away.  But with Whistle you can easily track your dog no matter where they are. The Whistle tag goes on their collar and will automatically alert you as your dog has left its safe zone and you need to track him down. The safe zone can be your yard, your home, or even the local dog park.
The Whistle tracker is attached to the collar of your dog which allows it to track their movement of the day. So, even when you are in the office, you can find how much your dear friend moves at its age, breed, and weight. Whistle is a perfect app to keep track of your dog and also to get peace of mind if your dog is alone at home. You can also unlock badges for activity achievements and treat your dogs in order to keep them motivated with gentle nudges. Whistle tag also comes with a light that allows you to find your dog in the dark and keep track of your pet's health by having a look at how much they are scratching or licking themselves.
Download one of the best apps for dog lovers – Whistle for iOS and Android
3. Puppr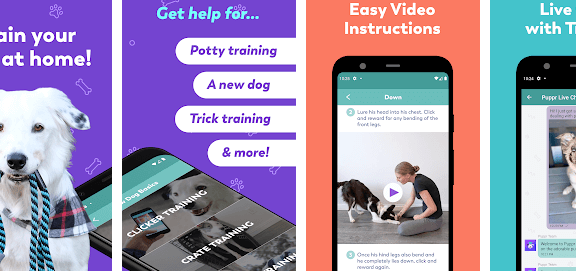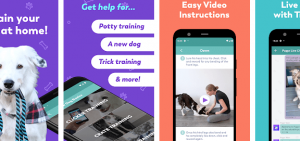 We are sure that you have already heard of Puppr as this application has been on the internet for a very long now. The top IT consulting company is still finding a way to invest in this app as dev are coming up with new features with many updates from time to time. Puppr was even featured in the Editor's choice on the Apple App Store. Puppr is the perfect dog training application out there in the market. It offers more than 70 lessons from several professional trainers which helps you in training your dog. Each lesson on Puppr is consists of written instructions along with videos and photos for better understanding and teaching your dog.
Puppr also allows you to chat with the live trainer to get their insight on what all you can do to train your dog. Every dog has its own profile in the app, and you can track every step that you have taken to train your dog. Every training session is offered in the form of a gamified way which gives a creative way to work around your dog. Puppr is the best training apps for dogs which also features an in-app digital clicker for clicker training and a curated shop for training treats, crates, and other necessities like training equipment. This app is a must-have application for every dog owner as every day new videos are added and more classes, items are featured in the app which is best for you and your dog.
Download the best training app Puppr for Android | iOS
4. Goodpup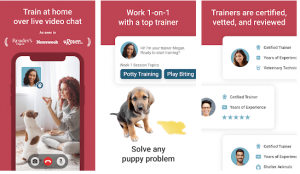 As the name suggests GoodPup is another world-class mobile app for dogs and dog lovers. GoodPup allows you to connect with the certified, vetted, and reviewed trainers to get your dog behaving as best it can. All the lessons are done in real-time through video chat so the trainer can also watch how exactly your dog is performing and growing in the field of training. The best part of GoodPup is that you can choose your trainer based on their picture, ratings, specialties, bio, and certifications.
GoodPup also allows you to chat with your trainer, getting quick answers to common questions like their methods. It also helps you in scheduling the lessons when you are available which makes it one of the best training apps. You can get the best trainer from all around the world, not particularly from your city. As a dog lover and owner, it is important for you to train your dog and GoodPup can help you make sure you're doing it the right way.
Download the best app for dogs to play GoodPup for Android | iOS
5. Dog Scanner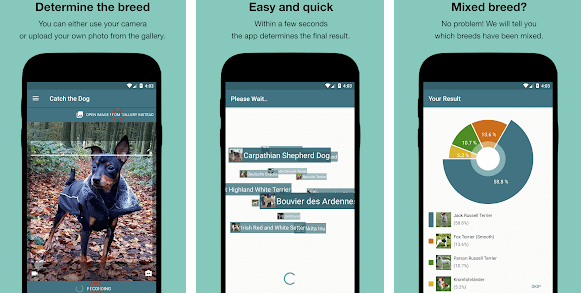 Dog Scanner is another beneficial app in our list which allows you to scan any dog through your phone's camera and then uses highly advanced technologies like Artificial Intelligence and Machine Learning to find out which breed the dog is. The best part of Dog Scanner is it even determines the mixed breed of dogs easily. Their library consists of more than 350 FCI breeds as new breeds are added every day to make this app more useful. On scanning a dog it takes a few moments to bring a detailed report of what breed the dog is and even identifies it as a mix. Once you have scanned the dog it allows you to share the photo that you have taken in the new social feed with other dog lovers like you.
On scanning a dog, the dog scanner app offers you educational research on the breed's history and how the breed came to be which makes it a good educational app dedicated to dogs. The rewarded badges and achievements determine whether you are a dog expert or not. It also offers comic scenarios for instance on pointing the camera app at your friend to see what dog breed he or she looks like. The dog scanner app will answer with "Ah yes, that is a human who appears 30% like a labrador."
Download the best dog scanner app for Android | iOS
Branding is a very important process despite being in any field. The sports field is not untouched by this branding process. The competition is increasing tremendously, hence, to keep the team intact, it is important to have a brand identity for the team. If you also are in a sports business have at the best 10 super creative ideas for inspiration in designing a sports logo.
6. Pet First Aid 
To be honest, if you are not an expert then you should never carry out any kind of first aid on your dog. But in case of any kind of emergencies we have a mobile app which is known American Red Cross Pet First Aid App which you can install on your phone to get help. We are sure you must have heard of its counterpart American Red Cross First Aid which is developed for humans. Similarly, it is the pet version of the same app which is equally necessary in today's world.
It consists of a clean layout on how to tackle emergency situations through clear photos and videos. For all the common ailments and accidents happening to your dog, you can perform things before you visit a vet. Pet First Aid App consists of proactive material as well, walking you through preventive care and maintaining your pup's well-being. Moreover, in case of emergency, it also offers proper instructions along with emergency tools and offers you an address to the nearest vet hospital. As a dog lover, we hope you never have to use it but it doesn't hurt to have a pet first app in your phone just in case for other pups as well.
Download the pet first aid app for iOS and Android 
7. TikTok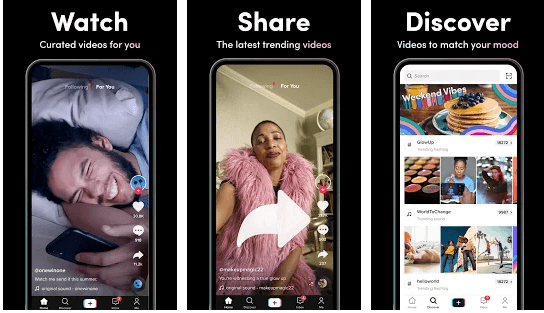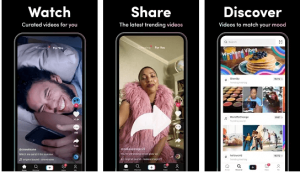 TikTok is one of the most trending social media apps for sharing short video clips with users from all over the world. You can share your dog's skills, cuteness, furriness, or a lakeside pic or show them acting strange around the home. TikTok also offers some amazing text and animations to make your videos the best for your users. Just like any other social media, it is very addicting to sit and swipe away new videos.
Download the best photo editing apps for dogs for Android and iOS
Here are the best apps for dog lovers in 2021. No matter whether you are planning to learn more about your own pup or your friend's dog, or to take care of your dog, these applications will be helpful for you. Here we take our users with blogs like the best android apps to cater to your needs.
Moreover, if you are planning to create one such application or finding 20 android app development trends to watch out for in 2021 then a top IT outsourcing company like VerveLogic is there for you.

We're VerveLogic and we've been serving our clients with our IT, designing, and Marketing services since 2012. Every day, our team of dedicated professionals works to make this world a little better through our premier solutions. Our exclusive services include Mobile App Development, Web Application Development, UX/UX Designing, SEO, Digital Marketing, and IT Consulting like "how to reduce android app size during the development" and Digital Marketing Services to businesses from all around the globe irrespective of your business domain.
(Visited 72 times, 1 visits today)