Celebrity mobile app development – everything you need to know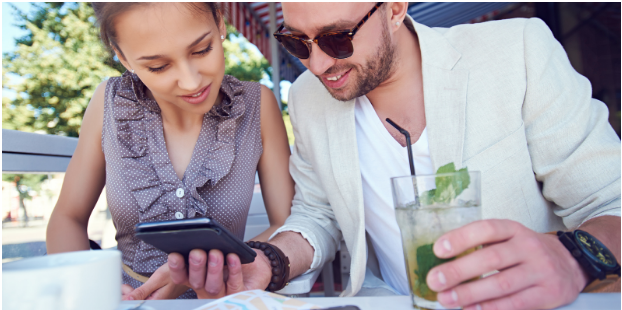 Nowadays celebrities want to interact with their fans directly & most fans are attached to them through their social media accounts Personalized mobile apps for celebrities are new trends that are up for grabs.
Decrementing is completely well, the importance of social media & its impact. A huge amount of aspiring, as well as actresses & famous actors, are acquiring their personalized apps for development. Ultimately, the great ways for engaging with your fans after aggregating every social media into one platform relevancy & branding has a vital part in all the goals & celebrity marketing strategies & this is great things that the maximum are realizing these things.
If you are not believing in us then by the statistics confirming celebrity mobile app frenzy that was in the years of 2014, one celebrity from Hollywood  Kim Kardashian has launched her own mobile app the name is "Kim  Kardashian Hollywood". After launching this app it was hit unbeknownst, as the celebrity app out of the masses acquired the record-breaking revenue & downloads, as of course.
Until now, more than 42 million people have downloaded this app. This came out from Q4 2015 so that the app could profitably earn 13.6 dollars & women between the age of 18 – 36 that the core audiences of the app were actually fans of celebrity culture.
Celebrities also using social media channels & also active in social media apps such as Facebook, Instagram & Twitter, forever. Stay in touch with their fans, enables them to actively interact with their fans & expands their audience. but nowadays the purpose behind making celebrities & launching these apps is the same. Mobile apps are literally excellent tools for famous faces such as influences, musicians for staying popular & connected with their bands.
There are innumerable celebrity apps available that are already in the market, such as Ellen Degeneres, Kendall Jenner & Kylie Jenner, Kim Kardashian, Britney Spears, Nicki Minaj,&  Katy perry many other public figures having their own mobile applications. Also, the latest names are popping up each &  every other day.
Why celebs should create their personalized app some crucial reasons are:-
Great source of income:- Money is essential & celebs are no exceptions because doing advertising of their apps is for earning, &  if in case you have not remembered that celebs branded apps will tend into generating revenues as compared with non branded apps.
Strengthen their brands:- These apps are helping celebrities to stay in touch with their fans both the ways online as well as offline. A personal app of celebs is noticing that it has perfect brand marketing techniques for celebrities in this way. Earlier on celebs managing regular TV emerged for staying important, then after some years ago, the trend of official celebrities' websites was hugely obvious. Some celebs have their websites, but honestly, that's not sufficient right now. So the celebrities' mobile app is what is required today.
Most celebs apps offer premium content & both are free, so they can easily attract all types of users & audiences. Actually, there is an in-app purchase with free celebs apps features. In this way, they can earn money with the help of subscribers, those who go for subscriptions, several packages & premium content.
In June 2014 the Hollywood app "Kim Kardashian" was launched by Glu mobile, on both ios &  android. The celebrity mobile app earned $1.6 million in just the first few days after the realization & after the end of the first quarter, the app earned $43.4 million & there were 22.8 million subscribers. In this way, they develop celebrity mobile apps in commercial deals, money-wise, for both celebs also mobile app development firms.
Which are the categories of celebrity mobile apps?
Now, onwards if you have ideas regarding the importance of celebs mobile apps for their personal branding, next, start to explore the categories of celebs  apps:
Games:- Currently, the trend on the popular niche for celebrity mobile apps is games. Like, when the flu launches there Kim Kardashian Hollywood is gaining immediate fame for celebs mobile games. So then, several celebrity mobile game apps have launched in the markets, such as there is for Gordon Ramsay, Britney Spears, Katy Perry & Nicki Minaj those who are repeating their success sculpture by Kim Kardashian gaming app.
There is an in-app acquiring is also offering for the most celebrity games, such as for buying clothes similar & what was worn by the celebrity, as the many subscriptions plans are offered just like, Kim Kardashian: Hollywood provides gold & silver subscriptions plan there cost is $19.99,$4.99 & 49.99 per month respectively. It is better when the celebrity has involvement & celebrity games are a nice way to connect with fans. Also, the app is like they can add their personal view in the game & grabs many more players.
Lifestyle:- Such types of apps are offering content that allows the user & out of the league for getting a sneak – peek into their favorite celeb's life. Generally, such an app has both the paid & free content. They feature a makeup tutorial with a link to the products they are used. Along with this fans can buy entire looks virtually with the celebrity with the accessories & links of clothes provided in the app. For an occurrence along with the gloaming app, Kim Kardashian is also a Kim Kardashian west official app, it is free for installing but also offering subscriptions of $ 2.00 / month. This lifestyle app is a special means for a celebrity for staying connected with their fans also for strengthening their brands by featuring videos & candid pictures. In this way, fans will be able to get a sneak –peek into Celebs like as well as for feeling a tinge familiar with these well-known faces.
Content app:- As per what is a particular celeb is popular for the content shown in the app differs. Just like prominent British Chef, Jamie Olive launched cooking apps: Jamie Recipies & Ultimate Recipes so celebs can showcase their cooking instruction step by step for inspiring those fans to cook recipes.
Social – Platform:- This kind of app is to extend a fan's community & great to unite. Also, there is the Taylors switch app, "the swift life", which will connect with a signing sensation to her fans. These types of apps provide the recent news about these celebs, videos & comprising exclusive pictures it makes that truly abnormal is how it allows a user to connect with other audiences & this is the best way celebrity's fans are able to comment & like, share on one another's post.
Which types of celebrities are investing in this trending technology?
–>> They vary from:
–>> Film star
–>> Wannabe artist
–>> Television stars
–>> Social media influencer
–>> Telly series stars
–>> Sports stars
Features of common celebrity mobile apps?
Let us discuss some integral features of celebrity apps for several arenas:-
Film celeb apps:- There are countless celebs in the theatre in the film industry, just like directors, producers, prominent movie stars, who can leverage this platform to:
–>> Promote show published & new movies
–>> Sneak – peak for daily lives
–>> Share regarding forthcoming plans
–>> Contributions into awards & events show
–>> Allowance candid videos & personal pictures
Sports Star:- The arena of football is big names, golf, cricket,& basketball are also showing regard to having their own individualized app. These apps are useful for :
–>> Share the details of team selection
–>> Current ads campaigns
–>> Current brand championship
–>> Provide some live sneak- peak for your fans
–>> Stay in touch with your fans
Music Super Start:- Britney Spears, Kim Kardashian & more other music personalities having their own apps. so they are music artists are utilizing these app platforms too.
News Anchors & RJ App:– Just as radio, Jockey, celebs & News Anchors are also getting their mobile apps developed for use too.
–>> All attributes of their show
–>> Coming events should be featured
–>> Share recording of previous days
Political App Development:- Important political faces such as Angela Markel, Narendra Modi, Barack Obama,& Vladimir Putin having their own mobile apps earlier on, so they can be used for promotional & political purposes, such as campaigns, polls & canvassing for informing supporters related.
–>> Membership in parliament
–>> Objectives
–>> Details of upcoming rallies & campaigns
–>> Devotion
–>> Awards & Achievements
–>> Forthcoming events
–>> Debates & News
Comedian app developments:- The first few names & speak of comedians that are pop in our heads of Geoge Carlin & Louis C.k .they have also their own mobile apps too.
–>> Collects good fans response
–>> Share Timing & details related to forthcoming shows
–>> Upcoming events & shows
–>> Details of collecting passes for the shows
Features of a celebrity mobile App?
Sneak – Peek:– These features will be using the celeb's for providing their fans a sneak –peek of their daily lives.
Schedule Post:- If they are on vacation but if they have content then they can manage their accounts to their fans.
Daily Social Post:– Celebrities can schedule their daily social media accounts with the app.
Announcements Alert:- If the celebrity has posted something on their accounts so fans are notified about their post.
Chat:- This is a really nice feature for both because this will help for chats with their fans from time to time.
Fundraising:- Celebrities will be able to ask for the rating funds for their social causes.
Video –live to stream:- This will help you to go-lives for their fans & also video call is also enabled.
App –In Videos:- App customers can watch the videos posted by celebrities such as movie tailors, interviews & TV appearances.
Set Calendars: This feature is provided with the details for their upcoming shows & events.
Photos album:- Celebs can click their photos & share them with their fans
Social Media Integrations:- These features help for allowing to the integration of Instagram, Facebook & Twitter profiles & accounts
Conduct Polls:- For gathering information about their fans this feature has been used.
Top celebrity mobile apps?
Celebrities are admiring the attention they are getting from their fans & also getting their own personal apps for accepting the request to follow them & so they can be in touch.
Let's discuss some important celebrity apps that they love their users.
American Dream – Britney Spears: – A famous musician Britney Spears has her own game, the American Dream app. Which are pictures of the amazing environments of pop stars. It will allow users to handle the discussions with the manager & they will also be able to create their organized & songs musical shows. This is free for the user also providing many features likewise competing with other singers & designing your own album.
Hollywood & Kimji – Kim Kardashian:- It is a simple app for playing for Kim Kardashian. These games are available for free also for buying online accessories for dolling up look just like Kim Kardashian, you will require an in-app purchase. The next app is koji fans are loving these apps & it is mixing the Kim emoji. for adding the photos of Kardashian they have to do payment first.
Heads–Up:- These apps are popularly known for games "heads up" with their app users. This is one of a kind of fun game so basically, it needs a user for guessing cards from different types guiding your friends but just in 60 seconds. So they will allow for sharing their results with people they know.
Kylie & Kendall:-  This app is called Kendall & Kylie because this app comes from Jenner's sister. It will start direct competitions with another sibling such as Kim Kardashian: Hollywood, Kim Kardashian app, the difference between this apps one is offering by Kendall & kylie for asking their customers to build their own stories.
Gotta Go:– If someone tells you that apps offered by Chelsea handler, tey what you think related to this it's funny? This app is a little useful also. These apps protect you from attending boring conferences & meetings. If you are sitting in a boring conference then you can set an alarm for any time so it will get message calls for better for that particular movement.
Tidal:- This app is co-owned by Kanye West, Jason Aldean, Madonna, deadmau5, Chris Martin, Calvin Harris, Alicia keys, usher, jack white, daft punk, Nicki minjay, Beyonce is a music streaming app  & Nicki enjoy coming at $ 20 month.
So here are some of the celebrity brand mobile apps that are hugely trending in the market.
(Visited 44 times, 1 visits today)