14 Best Apps for Secret Texting (Apps for Encrypted Messaging and File Sharing)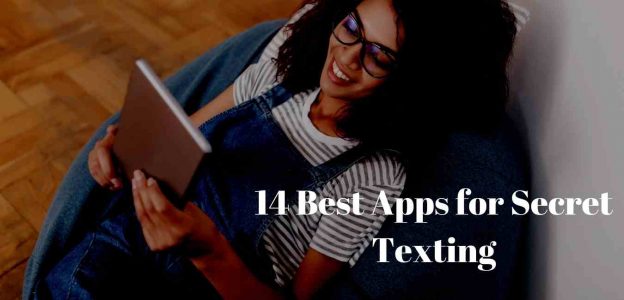 "41 Million Messages are sent out every minute all over the globe" (says: Statista)
Messaging is the most convenient way of sharing thoughts and information,  provided that it should only be read by the person for whom it is intended. No Intruders, right?
We have a lot of conversations over messaging, some are casual while others are highly sensitive or secretive. Apparently, the blast of technology has opened gates for hackers to hack any account and get access to information that can sabotage a person's life. We have heard a lot about bank frauds and social media account frauds.
Hacking is the sole reason why we are scared of sharing any sensitive information with our family, friends, or colleagues. Isn't it like living in the fear and inconvenience? Well not anymore, secret texting apps have got us covered. These apps are end-to-end encrypted so the messages remain between the sender and the receiver (no intruder in-between)
We can now enjoy all the benefits of secret messaging apps for iPhone and Android.
Below is the list of the top 14 Secret Texting Apps that give a safe channel for people to communicate and are used worldwide:
Also Read: How to Make a Messaging App – Cost, Features and Much More
Top 14 Apps for Secret Texting in 2021
1.Whatsapp – Encrypted Secret Messaging Apps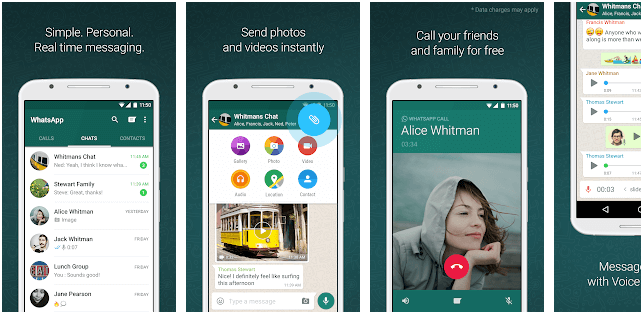 Yes, WhatsApp is a pun on the phrase What's Up? Meaning what is up in your life? Apart from its felicitous name, there is a lot that WhatsApp promises and successfully serves. This communication channel is completely secured with robust end-to-end encryption and other security policies.
Key Features
-> Supports document sharing and download in multiple formats.
-> Group texting and Calls
-> Audio/Video Calling
-> Compatible with both Android, iPhone, Windows
-> Offers Whatsapp Business as well
2. Facebook Messenger – Loyal Since the Start
Who isn't aware of Facebook? This American company was prevalent since the culture of app texting started. To date, it is the highest-grossing social media app.
FB messenger powered by Facebook is the free app known for secured communication and instant messaging providing a safe channel for casual conversations to business deals, etc.
Key Features of Facebook Messanger
-> Quick replies and message forwarding
-> Send an audio/video message
-> Create a room
-> Multi-platform Utility
-> Compatible with Android, iPhone, Windows
-> Participate in Polls    
3. Telegram – One of the Best Apps for Secret Texting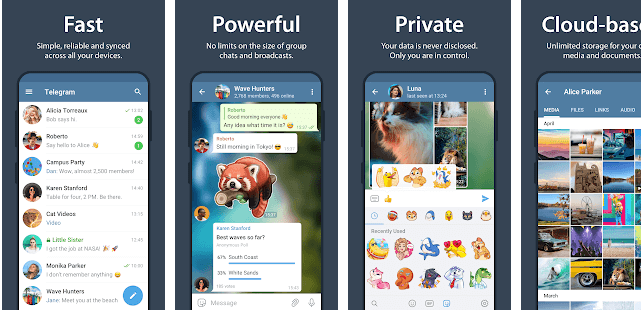 It is one of the best in the league when it comes to highly secured secret texting apps. It connects people across the globe with its widespread group of data centers. Coming into the race in August 2013, the telegram is now serving over 400 million active users worldwide.
Key Features of Telegram: 
-> Facilitates unlimited messaging
-> File sharing (a video file as long as a movie).
-> In-built Image and Video editing tools
-> Message secrecy is taken care of by the combination of 256-bit symmetric AES encryption
-> Secret messaging app for Android and iPhone both.
4. Signal – Best Apps for Secret Texting
Secret messaging apps like Signal have completely demolished the culture of SMS or MMS. These apps give you a lot more than just messaging, they mend you in a deep group conversation with all your friends and family members on a shared platform. Signal lets you have uninterrupted communications and stores no data with itself.
Key Features of Signal: 
-> Free of Cost Audio Calls
-> Most secured connections
-> Open-source peer-reviewed cryptographic protocols
-> Signal for Android, iPhone, Windows, Mac, and Linux.
-> Runs independently of the browser
5. Viber – Best Apps for Secret Texting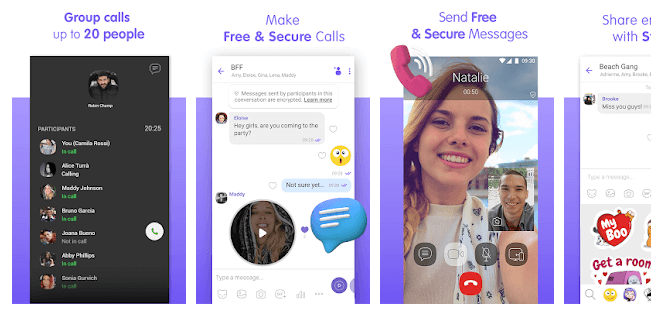 Viber is a worldwide renowned private messaging portal that is currently facilitating millions all over the globe. Users with Viber can access HD video calls, chats, audio calls, etc, everything with ensured end-to-end encryption. Conversation of any sort is packed between the sender and the receiver…
Key Features of Viber
-> You can create a "Viber Community" with unlimited members.
-> Self-destruct feature to remove the confidential information once it is seen by the other end.
-> Complete synchronization with user's desktop and tablet with no UI discrepancies.
-> A large gallery of GIFs and Stickers to spice up your online chats.
6. Silence – Playstore Has the Best Encrypted Messaging Apps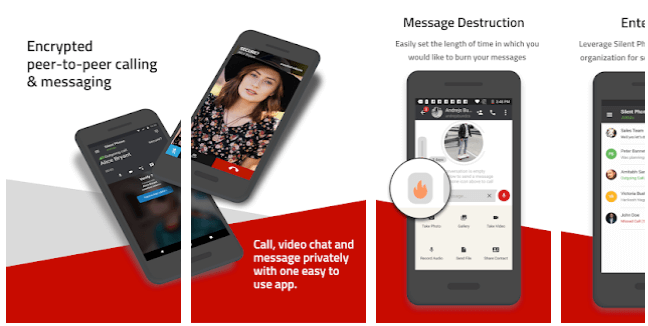 Messaging is done so privately that we can assume it's silent. Silence is an online platform that allows the transfer of texts, videos, and images through an end-to-end encrypted pathway without the need to spend even a single penny. Free of cost app with quick and easy download from Playstore.
Key Features of Silence
-> An established worldwide network
-> No server or internet connection needed for texting (video and image sharing are exceptions).
-> Local encryption to secure your messages even when the device is lost.
-> Applies Axolotl encryption protocols for maximum safety and privacy.
-> Best private messaging app for Android.
Bonus: Secret Messaging Apps (Stats)
The popularity of secret messaging apps is increasing like a bushfire.  These hyper secured channels help you connect with your loved ones all over the world without any threat to your personal data privacy.
Shortlisted by Statista are the most popular secret messaging apps of 2021 (the list is based on active users worldwide)  
Apps and Monthly Active users (in millions)
| | |
| --- | --- |
| Whatsapp  | 2000 |
| Facebook Messenger  | 1,300 |
| We Chat | 1213 |
| QQ | 617 |
| Telegram  | 500 |
(Source: Statista)
7. Wire – One Of The Best Secret Texting App
Technology when used positively can help millions. The perfect examples being secret texting apps like Wire. Individuals and organizations who were earlier worried about the hacking of their confidential information are now widely dependent on platforms like Wire for their daily basis communication.
Key Features of Wire
-> Offers log in from multiple accounts
-> End-to-end encrypted communication and file sharing.
-> Uninterrupted video and audio calls
-> Adheres strictly to security protocols.
-> Download from Android or iPhone 
8. Dust – The best App for Secret Messaging
The highly secured channel for exchanging thoughts and information. Dust holds the tenth position in our handpicked list of the top 14 secret messaging apps for a reason. The app is the safest place to text and communicate as it abides by enhanced security protocols.
Key Features of Dust
-> The feature to add unlimited members on a group chat.
-> Messages are automatically deleted after 24 hours (ensuring utmost safety).
-> Option to unsend messages.
-> The app notifies the sender anytime the screenshot is taken.
-> Compatible with both Android and iPhone.
9. Cover Me – Best end to end encrypted messaging app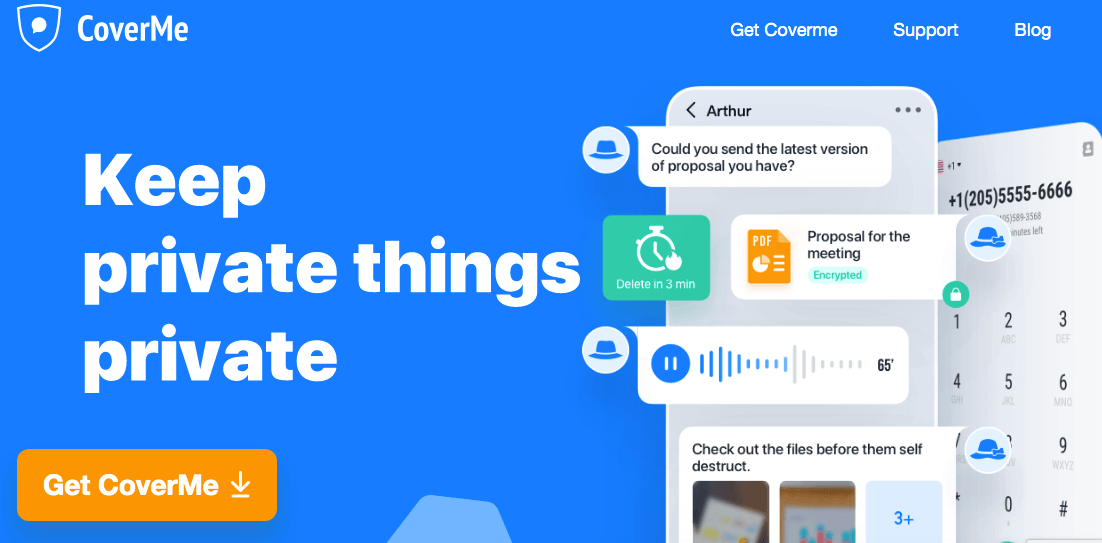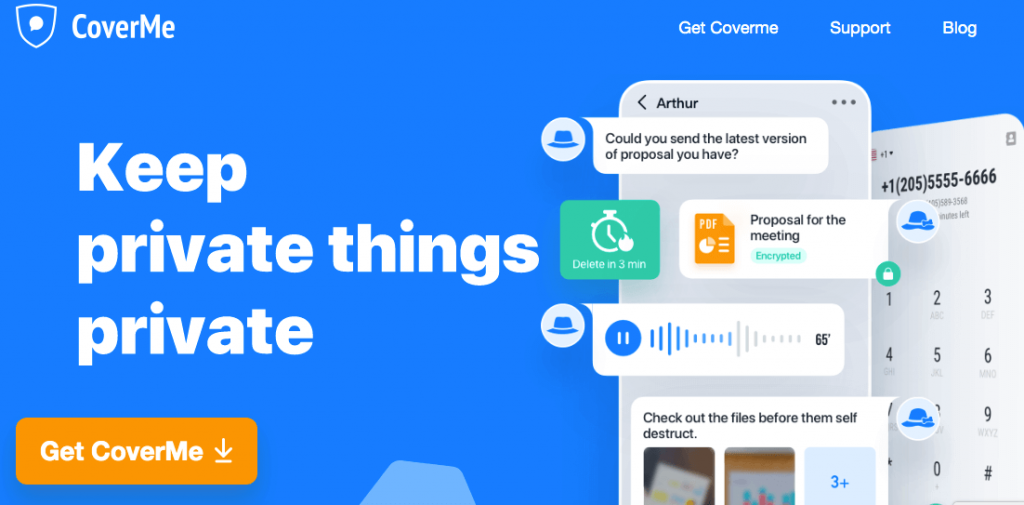 CoverMe has got you covered when it comes to the utmost security of your chats and calls. This fully secured and robust messaging ecosystem extends benefits to organizations that need a robust environment to commute confidential data.
Adding on, the platform is secured with password settings. I someone tries to sneak into the app with the wrong password, he will see only an empty vault.
Key Features of CoverMe
-> Shake the phone  to hide all your confidential messages
-> Allows secret calls from private numbers.
-> Texts can disappear after a specific time.
-> Disappear or recall sent texts.
-> The best secret texting app for Android and iPhone users.
10. Threema – Secret Texting made Easier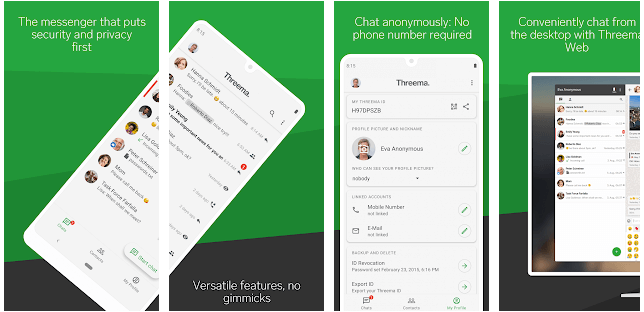 No hacker can reach your confidential data if you have Threema installed on your phone. This robust ecosystem facilitates seamless texting and file sharing. It is a strong wall keeping third-party vendors and the government also away from your reach.
Key Features of Threema
-> You can install this app on the desktop
-> End-to-end encryption is applied to texts, videos, group chats, and even status messages.
-> The platform gives the facility to conduct polls.
-> Files in all the formats are supported.
-> A robust secret messaging app for Android and iPhones.     
11. CYPHR – The Best Secret Texting App for iPhone
A native secret messaging app for iOS is an exemplar of security and high-quality messaging. Organizations of every size are becoming habitual of this utility as its UI is commendably strong and user-friendly.
The portal was introduced to combat severe issues like the "take it or leave privacy approach", not giving customized security settings, a low-quality UI and UX, etc.
Key Features of CYPHR
-> A robust UI
-> Has encrypted and decrypted strings (as and when needed).
-> Allows you to decide the level of privacy.
-> Any user can access CYPHR a highly conscious user and a casual user.
-> Top secret messaging app for iPhone users.
12. Wickr Me – Latest in the Generation of Secret Texting Apps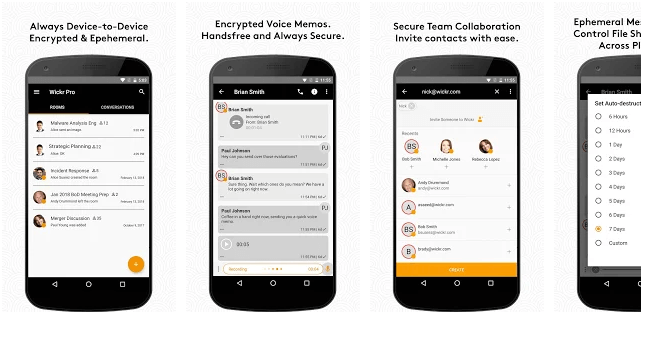 Launched in December 2014, Wickr Me is a fully-featured end-to-end encrypted platform to facilitate conversations and information sharing. The app facilitates high-end communication with advanced end-to-end encryption. With Wickr, take charge of who can access the file shared and for how long the file remains accessible. Remote working is possible with apps like Wickr.
Key Features of WickrMe
-> Advanced end-to-end encryption
-> No email or mobile number is needed to access this app
-> Wickr Me has no records of your messages or contact information
-> It overwrites on all deleted content
-> It has an integrated expiration timer
-> Is downloadable on Android and iPhone
13. Mattermost – Top End-To-End Secret Texting Platform
The best in the league of top-secret apps is Mattermost. The reason why it is one of the best messaging apps of the 21st century is that it is a fully-featured secure platform that makes your social life happening while fencing you against any fraud or data theft. Integration of the LIVE feature in this messaging app is what makes it ahead of its counterpart.
Key Features of Mattermost: 
-> Users can create and confine their social circle.
-> Quick and protected file sharing option.
-> Have highly secured one on one group chats.
-> Integration with in-house systems using webhooks and Slack-compatible integrations.
-> One-on-one texting app for iPhone, Android, and desktop users.     
14. Line – A Secured Connection with Peers
Line's user number exploded once the app incorporated end-to-end encryption. The line has a true elixir under the name 'letter sealing' when it comes to secured chats and information sharing. The app already packed with a lot of noteworthy features has now come up to guarantee the privacy of your chats and calls. Nearly 700 million people are currently using Line.
Features of Line
-> The app facilitates Quick Poll
-> Can call anyone outside Line.
-> Free audio and video calls.
-> Chat with up to 200 friends simultaneously
-> Auto-sync on various devices.
-> Can be operated via Android, iPhone, Desktop, and Tablet
Final Thoughts
These apps allow end-to-end encryption giving the common man true freedom of speech and making hackers scratch their heads. Not limited to texting, these apps facilitate group chats, audio/video calls, and document sharing in any format (definitely it is messaging 2.0).
As the remote working culture has risen, many companies need a robust communication network to stay in touch with their workforce. And staying in touch is not limited to conversations or calls but is also about sharing critical information and files. Secret Messaging Apps have got you covered.
These third-party secret texting apps are always at your service. Still, for a high-end secured realm, companies can acquire their in-house messaging and collaboration apps with authenticated security and custom-made UI/UX. Approach to the best app development company and they will take charge to fulfill all your app-related needs and solve concerns.
(Visited 742 times, 1 visits today)