10 Free Websites to Promote Your Mobile App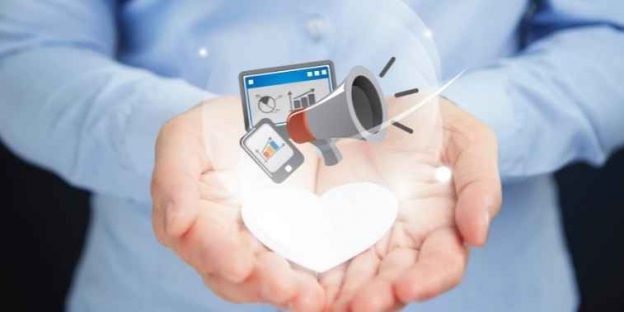 People are making their business available online, especially as the coronavirus pandemic hit the world. The number of mobile apps available for people is increasing as a result. There were about 3.48 million apps available on the Google Play Store and 2.22 million available apps on iOS, as of the first quarter of 2021.
There are multiple solutions available for almost all the problems and entertainment. So, how will your mobile app be discovered? How will people start migrating to your iOS and Android app? The field has grown highly competitive, but that does not mean you cannot get the expected number of users.
Source: Pinterest
Similarly, if you search out for a free website to promote your mobile app, you will find many. In this article, we have specified some of the best websites that you can visit to promote your app. All these websites are handpicked to deliver you the best of experiences.

Website to Promote Your Mobile App in 2021
Here are some of the websites that you can use to promote your iOS and Android mobile app.
1. Product Hunt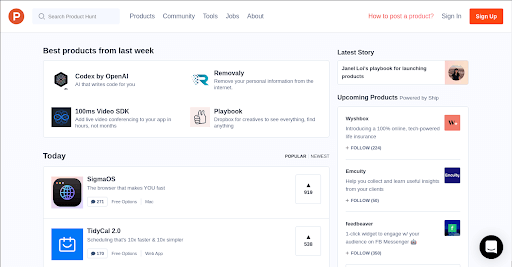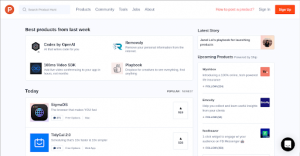 Product Hunt is a website that allows people to discover the newest available websites, mobile apps, and technology products. There are some instances where even the attention of investors got caught.
Product Hunt is a community-based website where the community votes and writes honest reviews. Even if your product is in the MVP stage or has bugs, testers are happy to test your product on this free website. Do you want to know more about MVP? We have got you clever with our blog, How to Plan a Minimum Viable Product: Your Ultimate Guide.
To enlist your iOS and Android mobile app on this website, you need to create Product Hunt accounts. You would also need to inform people about your mobile app with FAQs or an article. Screenshots of the products and an engaging video can attract a larger number of people to your app. This is one of the best websites to promote your mobile app.
If you want a better insight on mobile app marketing, you can read our blog, A Step-By-Step Guide to Marketing Your Mobile App.
2. Launching Next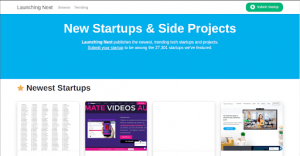 Launching Next is a website where you can promote your iOS and Android app for free. Here, founders can meet each other or even investors. This website has more than 10,000 start-ups listed on this website. Here, you will be able to find a large community of influencers to help you promote your mobile app.
On this website, people can browse based on the criteria and find their perfect match. Trending and most popular startups can also be found on this website. You can also avail startup optimizing services from this website.
You just need to fill out the submission form and get accepted. Then, people can start looking up your app.
3. Springwise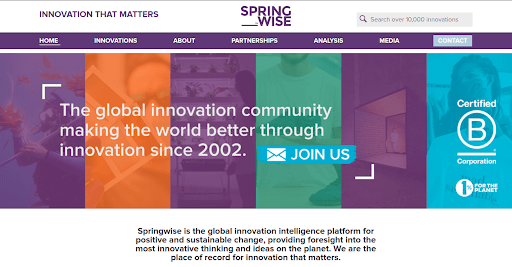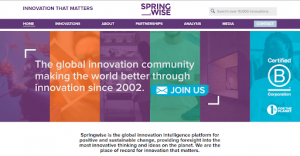 Springwise is a unique website to promote your mobile app that only considers apps that include innovation and creativity. If you have an iOS and Android mobile app that has the potential to change the world for the better, Springwise is the best platform to showcase it.
Here, people can find amazing apps and unique business ideas. If you are looking for some unique business ideas, you can visit our blog, 103 Money Making Startup Business Ideas. If you get selected for this website, get ready to be exposed to a tech-savvy audience that can make your app a huge success.
Do you want to know some tips to improve your user retention right from the start? Do read our blog, 'How to Increase App Engagement and User Retention?'.
4. The Startup Pitch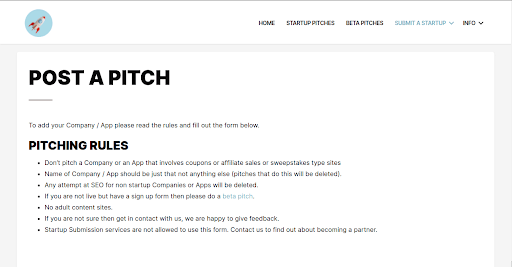 The Startup Pitch started out as an experiment and was called D.I.Y. Startup News. When it became a success the website renamed itself 'The Startup Pitch'. Here, you will have to answer some questions about your mobile app and get it converted into a pitch.
All the iOS and Android app submissions are checked before going online. It is one of the best ways to promote your mobile app.
5. Netted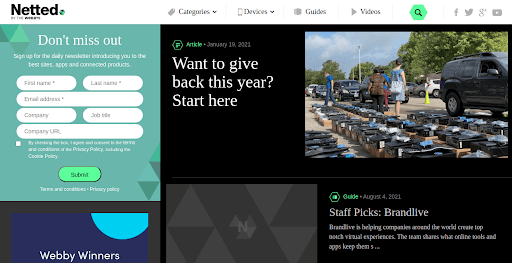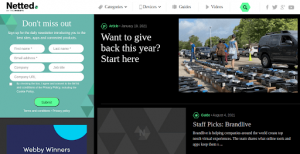 Netted by the Webbys is one of the best websites to promote your mobile app. Audiences that are digital enthusiasts and influencers can be found on this promotion website. This website also has a humongous list of emails that receive newsletters with the best products, apps and websites. If your mobile app is customer-focussed you can definitely send it on this website.
We also have a list of Top 12 Digital Marketing Tools for Small Businesses. You can bookmark the blog and read it when you wish to.
6. Startup Ranking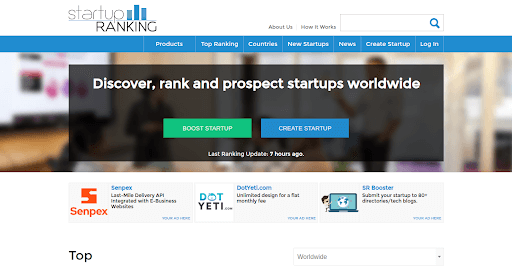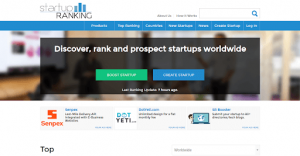 Startup Ranking is a score-based website that scores mobile apps between 0 and 100,000. The score is given on majorly two factors SR Web and SR Social. SR Web is all about the importance of that startup on the web. And SR Social notes down its social influence.
Internal links distribution, number and quality of web pages that link to that site, external links, SEO factors and audience factors are responsible for the SR Web Score. For SR social the website views your Facebook and Twitter engagement.
This is one of the best free websites to promote your startup. It takes a maximum of 79 days to get approval. You can also pay a fee to get your startup approved within 24 hours.
7. Killer Startups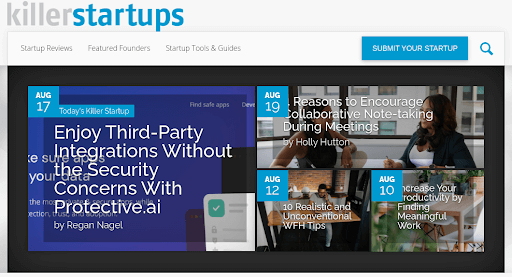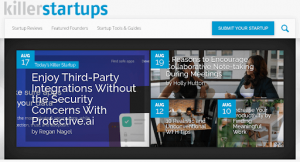 A user-driven startup community, Killer Startups is one of the best platforms to promote your mobile app for free. Investors, bloggers and entrepreneurs keep themselves informed with the help of this website.
Entrepreneurs can submit their startups on this website and get a review from their peers. You will be able to grow your online business better with the help of tools, training and information you get from them. Promote your startup with this website and present yourself the best.
Do you know you can improve your mobile app development process by writing a Product Requirements Document? How to do that? Do read our blog to know more, 'How to Write an Effective Mobile App Product Requirements Document?'
8. BetaList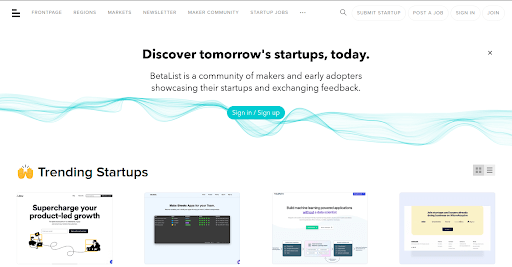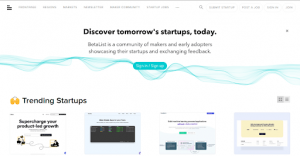 BetaList is yet another website that allows you to submit your startup online. The number of visitors will increase on your mobile app as you list on this website. You will also be able to increase your followers on Instagram and Twitter handles of your iOS and Android mobile app. This is one of the best solutions to promote your mobile app online. It may take a little time if you are sending your mobile app for free. So, it is advised to send it as soon as possible.
9. Rate My Startup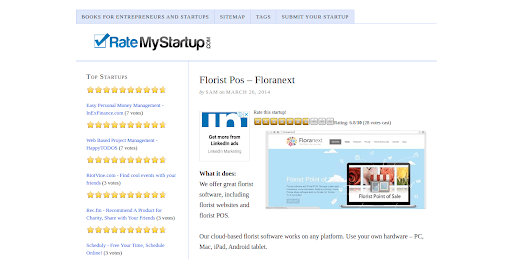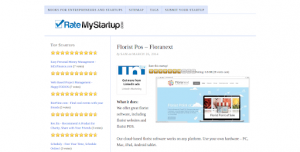 Rate My Startup is a vote-based website that has a vast community. On this website, you get votes based on how the community likes your iOS and Android app. You can get a permanent section on the homepage in the 'Top App' section if the community likes your mobile app. You can submit and promote your mobile app for free or paid (in case you wish to get it approved fast).
If you want to learn more about the mobile app development process, do not forget to check out our comprehensive write-up, 'Mobile App Development Process: Step-by-Step Guide 2021'.
10. MobileAppDaily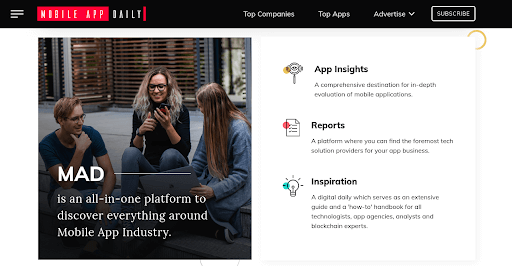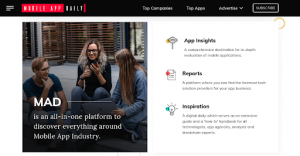 MobileAppDaily allows you to market your mobile app at best. This platform helps app owners receive app reviews, news, customer feedback, insights, and more. To get approval from their side, try submitting a mobile app that can add value to users. This website will help you gain users and promote your app.
Best Free Websites to Promote Your Mobile App: Wrapping Up

All these are some of the best websites to promote your mobile app. Some of these websites do ask for payment to help you receive approval faster. Promote your mobile app with these websites to gain traffic that you wish to achieve. Which one do you think will work for you? Do let us know in the comments section below.
Do you know the cost of developing a mobile app? Learn more about app development costs with our blog, 'How Much Does it Cost to Make an App in 2021?'
(Visited 1,417 times, 1 visits today)