Cost to Develop a Wedding Planner Mobile App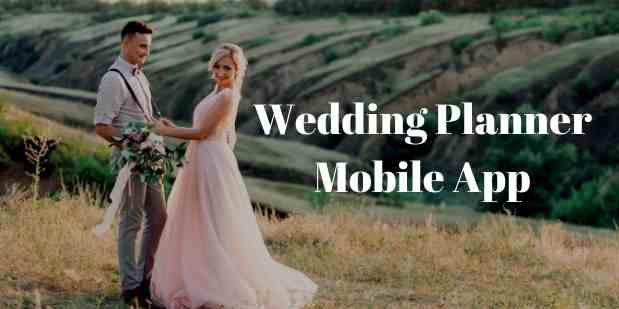 When you go down memory lane and think about the wedding, the ceremony itself comes into your mind. The vows you promise each other and the ceremony as a whole can never be forgotten. We all know a lot of background work is required to have a picture-perfect wedding. Last moment changes and instant decisions are an inevitable part of any wedding ceremony.
When planning a wedding, a lot of efforts are required. All your friends and family get engaged in the planning part. While some people need to put in all their time in just managing. Weddings are supposed to be fun for the couple and all their relatives. The best way to let you and your relatives enjoy the wedding is to outsource the services to professionals.
The easiest way to ask the best of professionals to be at your service is through a wedding planning mobile app. From guest-list to vendors and budget all can be compiled in one single app to manage and plan a flawless wedding.
Why Do People Need a Wedding Planning Mobile App?
About 40 million wedding ceremonies happen each year in the world. And for every wedding, the free time people get is very limited. The couple and their family members want the most of each second they spend planning the wedding. The wedding planning mobile app not just lets people skip the waiting lines but also is easier and faster.
A Wedding Planning App is an ultimate solution to all the wedding hassles. The demand for a wedding planning mobile app is increasing over the years as this app is easy, feasible and manages better. Creating a checklist, preparing the timeline, managing the vendors and keeping up with the budget is now easier than ever.
Wedding Process and Wedding Planning Business Transformation due to Technology
The internet has changed every industry and the wedding industry is no different. Hours of tedious work can now be completed in minutes or even seconds with the help of technology. Technology has replaced your briefcase and notebook with a device that fits in your pocket.
In the past, people used to brainstorm to find inspiration, read wedding magazines and whatnot. All the tasks are now one click away with the help of the wedding planning mobile apps. Times have taken a one-eighty degree turn and people are embracing the new technologies making wedding apps popular every year.
Types of Mobile Wedding Apps
Be it an Android app development company or an iOS app development company, both are getting a lot of requests to develop wedding planning mobile apps. From countdown widgets to checklists and card making, there is a long list of apps available on Google Play or the Apple App Store. The four most popular types of wedding apps include:
-> Countdown Apps
-> Planning Apps
-> Checklist Apps
-> Guest List Apps
1. Countdown Wedding Apps
Couples who will be getting married soon want to keep a track of the time left to their wedding and other ceremonies. Countdown apps let couples track the days, hours and minutes left for their special day. There are multiple frames to choose from to make their countdown look as beautiful as possible. Brides and grooms can also share the countdown on their social media apps and celebrate the togetherness.
2. Planning Wedding Apps
Every wedding needs to be planned for months in advance. To make your special day a memorable one, you can take help from your loved ones and a quality wedding planner app. The person can set a profile picture of themself and their better half and start the wonderful journey that can never be forgotten.
This wedding app category is divided into various sections namely, Budget, Dresses, Guests, Favorites, Forums, Checklist, Wedding deals, Wedding vendors and many more. These wedding planning mobile apps also allow users to create sections of their own. You can delete, edit and update the existing items and adjust the app as per your needs.
3. Wedding Checklist Apps
This app allows the users to create a checklist and add notes for the tasks that they have performed. You can also set reminders in this app to remind you when a task needs to be done. Users can create a guest list using this app and make sure the invitation reaches everyone. The tracking of the availability of guests is also possible with this type of app. These apps can be easily developed by a mobile app development company with incredible design and functionality.
4. Guestlist Apps
A guestlist app keeps the record of your guest list in one place. With these apps, you have the liberty to divide your guests into categories as well. Badges with QR codes can be sent to all the guests via email. You will be able to import your contact list with the help of this app and manage the status of your guests. An app development agency can make this app for android as well as iOS.
Main Features of Wedding Planner App
Three types of users are kept in mind when an app development agency develops your wedding planning mobile app.
User Panel
Event Companies/vendors by services and location
Hierarchy of services
View resultant supplier/vendors
Filter/refine the search by wedding date, wedding type, and service category/subcategory
View supper profile, reviews, and portfolio
Inquire the supplier/vendor
Multiple wedding styles (i.e. festival, formal, casual)
Manage checklist (i.e. food, decoration, music)
View suggestions for each checklist
Registration/Login
Manage budget for services
Budget calculator
Manage guest list

Online RSVP for guest
Manage tables
Discussion room
Manage supplier/vendors
Shortlist supplier/vendors
Get inspiration for each service
Online shop for each service product
Multiple payment options
Wedding albums
Share vendor/supplier profile with friends & relatives
Varieties of wedding venues of selected wedding location
Add manual bookings in-app
Email campaigns
Google map for location
Wedding countdown
Write a review & rate
Supplier/Event Managers
Login
Register
Set your business/service detail
Set availability
Set booking goal
Manage bookings or import from Google calendar
Manage inquiries
Set availability preferences
Real-time analytics
Activate membership plans
Online payment

Customer reviews
Request review
Manage task list
Track invitations
Collaboration with users
Attendees tracking
Discussion room
Manage workers/employees/volunteers and their task
Export reports
Alerts & notifications
Admin
Login
Manage customers
Manage suppliers/vendors
Manage service category/subcategory
Manage checklist
Cloud storage
Manage shop
Customer review & ratings
Membership packages management
Google calendar integration

CRM integration
Content management system
Powerful reporting and analytics
Manage wedding styles
Google map integration
Mobile apps/PWA
Multi-Currency support
Manage locations
Manage wedding albums
Notification
Features of Wedding Planner App that Will Make it Stand Out
1. CMS Integration: Pages like Contact Us, About Us, FAQs, App Privacy guidelines and Wedding Ideas can be managed using this functionality. Admin can handle these pages, improving them over years.
2. CRM Integration: This functionality helps the customer care department to handle a large customer base efficiently.
3. Real-time Analytics and Dashboards: It helps the admin learn about the statics of their app. They can check how many times their app has been downloaded and know the density as per areas. Analytics allows tracking of types of services availed, most-loved offers and e-commerce purchases on the app in a precise way.
4. Push Notifications: Push notification alerts the users of all the new occurring, task reminders and all the other wedding-related notifications. Staying alert is very important for all the users, making this functionality a must.
5. Payment Integration: With this feature, people can make easy and hassle-free payments. Users can avail of any premium services using multiple payment options available on the app like debit cards and credit cards. You can also add multi-currency modes for people to buy stuff from around the world.
6. In-App Chat: The wedding planner and organiser can interact with each other efficiently with the help of this app. This feature allows several participants to chat in groups. The in-app chat feature connects all the people in one place reducing the hassle.
7. Gallery integration: This is one of the must-have additional features of a wedding planning mobile app. It can be used to post images of the wedding attire, ideas, themes couples like and much more. It also allows users to share images of their preparation and keep up with the timeline.
8. In-app Camera Integration: In-app Camera Integration feature will allow users to directly click the event pictures from the app itself. It reduces the time of sharing the image from the gallery and is a lot less hassle.
9. Chat Bot: The chatbot uses machine learning technology to automate the chat. It provides useful suggestions to the users.
10. Social Media Integration: All the users including, the admin, event planner and couples can use this feature to post their updates on social media from the app. This feature does wonders in terms of users' app engagement and app visibility among your audience.
11. Blogs: Blogs are a great way to convey your messages to your audience. They can also prove to be a catalyst in letting people make purchases if they like your idea.
12. e-Commerce: With the help of this feature users can make purchases from the Wedding Planning App. Wedding accessories, footwear and many other items related to brides and grooms can be featured on the app for the users to buy.
13. Refined search: With the help of this feature, users can search for venues and wedding planners that suit their budget and planning.
14. Ratings and Reviews: Ratings and Reviews feature lets users review the app, planners and venues as per their experience. This helps other users to make a choice.
15. Calendar Integration: Calendar integration ensures that all the process is in time. It reminds the users to complete the task and not forget any.
16. Multi-lingual: If users plan a destination wedding this feature can be very useful. Commuting, catering, decoration and other stuff become easy when people can communicate in their regional languages.
17. Customer Loyalty Program: It is one of the features that keep the users sticking to the app and also invites other users to join. Giving discounts and other offers to please customers is a trick that works at all times.
Benefits to Develop a Wedding Planner Mobile App
There are several benefits of having a wedding planning mobile app than the old methods.
1. Keeps You Connected: A wedding planning app keeps you connected with the customers all the time. Wedding planners can solve their queries in no time and can send push notifications to the customers. The latest offers and discounts can be sent to the customers using the mobile app.
2. Saves Your Time: Everything on a wedding planning mobile app is just one click away. From choosing their attires to venues, all things are possible using the app. This saves the time of both, the planners and the couples.
3. Offline Features: Long term relationship with customers can be attained by the wedding planners with the use of offline mode. Users can use their app even in the areas where the internet is not available, making it a worthy app of all time.
4. Brand Visibility Enhancement: Wedding planners can enhance their visibility and extend their businesses with the help of this app. They can reach the local market and create a larger customer base. If the app is good, it can help in making good revenue. For the best results, hire an app development company and you will be able to reach the skies.
The process to Develop a Wedding Planner Mobile App
When reaching out to the iOS and Android app development company, one can discuss the features they wish to include in their wedding planning mobile app. The right wedding planner mobile app development company helps you receive a product that will establish your objectives.
Team Structure Required:
Wedding planning mobile app development requires a lot of work and to build an app that everyone loves is very important. Top app development firms help you create an app rich in features. Your app development team must consist of:
1. Project Manager
2. iOS Developer, Android Developer
3. Back-end App Developer
4. UX/UI Designers, Graphic Designer
5. QA Testers
Cost to Develop a Wedding Planner Mobile App
The cost of developing a Wedding Planner Mobile App depends on the number of hours invested, features included and technologies involved. The overall cost depends on factors like
-> Basic Features
-> Advance Features
-> Chosen Platform (iOS, Android, or both)
-> 3rd Party API Integration
-> The region of the app development centre
-> App complexity & number of hours invested
A Wedding Planner Mobile App with reasonable features can cost somewhere around $10,000-$30,000 for one platform. The cost of developing the mobile app can go up to $45,000 when developed on both platforms.
To Conclude
It is time to make the most of the very special day for all the couples. A wedding planner app can save a lot of time for couples and can make their weddings better. It is time to switch to digital for better. To own an app of your own hire an app development company for best results.
(Visited 144 times, 1 visits today)