Mobile App Development is a Sustainable and Cost-Effective Deal; Know How?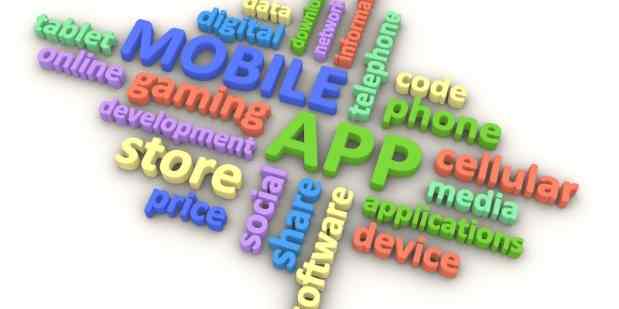 The number of smartphone users worldwide surpassed 3 Billion and is forecasted to increase by 100 million in the coming few years  (source: Statista)
With this number of smartphone users all around the world, Mobile App Development is a next-level approach for any business to increase their sales and establish their worldwide goodwill. 
An app reaches where a person can't and therefore this is the smartest marketing investment of 2021. In short, a full-fledged mobile app helps you bridge the gap with your customers and ultimately reach the edge of your sales. Targets Achieved..!! 
Being the resident firm of America, you can give the contract to a potential mobile app development company in the USA and see them create a roadmap to your ultimate business goals.
Out of all the three categories (App, Web, and Software Development), apps still lead the queue in terms of demand. Whether it's a Small, Medium, or Large firm, every business entity is looking forward to building an app to grow their business.
Why so? To get to an answer, let's check out some eye-opening mobile app download and usage stats.
Mobile Applications – Download and Usage Stats
Though pandemic hampered all the other businesses, it has widened the market for mobile app development as more than 2.87 million apps are registered on the PlayStore alone to serve people owning Android OS. AppStore comes next with 1.96 million apps.
-> China followed by India and the USA are the top 3 countries in terms of smartphone users (says: Statista). Each country had already surpassed the 100 million benchmark.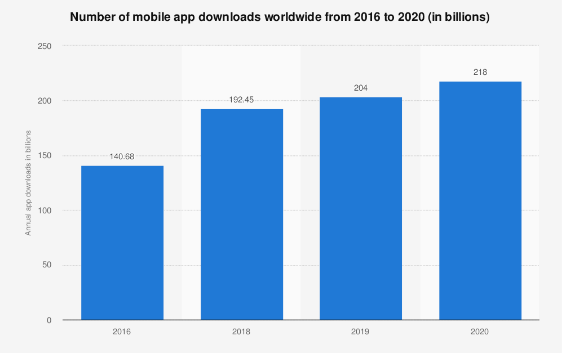 (source: full-e-stop)
-> The USA has the highest smartphone penetration rate with 81.6% of the entire population using smartphones and smart gadgets (source: Statista). 
-> More than 90% of the total time spent on the internet is dedicated usage to applications (says: eMarketer in its 2020 survey)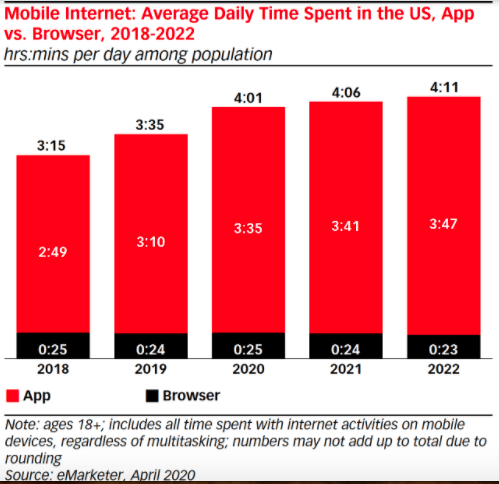 -> 49% of people open an app more than 11 times a day (says: build fire).
-> The average smartphone user uses 30 apps in a month (says: build fire)
-> Free vs paid apps – free apps win the highest number of downloads.
Highlights: Atlanta has the way to your dream project. Acquire the services of the best mobile app development company in Atlanta.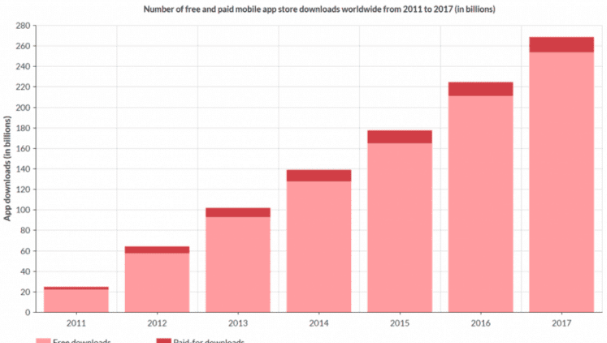 (source: buildfire)
The Entire Process of Mobile App Development
It is both hard and important for you to keep a track of your app development.  We have found an easier way for you to assess your app's progress. Bridge with your app developers.
Analysis and Strategy
You already know your business, this is the time for you to integrate your business goals into a full-fledged working application. Meet tech experts, explain to them your idea of an app, What you need your app to accomplish? And How it will benefit your target audience?
Reach out to the best mobile app development company in Miami, explain to them your ideas of a working application and receive the most satisfactory outcomes.
Developing a Prototype
Now that you are prepared with a silhouette of a working application to promote your services and products, it's time to give your ideas a body.
The prototype is the draft of how your application will look and work. The process includes UI/UX designing, style guide, configurations, mockups, and the working model.
Reach out to a mobile app development company in the USA with your ideas. A prototype can be created on wireframes and other software for this purpose.
Application Development
Once you are convinced with your prototype, take the next step towards building your application.
Step-1: Deciding the backend of the app (servers, APIs databases, etc.)
Step-2: Programming and Coding Phase – this is where your app developers shine. They are well-versed with the best for your application. The involvement of the technology depends on the type of application, UI/UX complexities, features, and cloud integration.
Testing
Once the development phase is over, your app is ready for a test run. Let your mobile app development company test your app for performance, speed, features, and security. QAs do the tasks for you. They are responsible to find the errors, test the scope of improvement in your app and make your application worthy to bring to the market.
Debugging
Errors or bugs define the quality of your application. An application with errors is preferred by none and therefore needs to be debugged before the application goes viral on app gateways. 
Again QAs are responsible to analyze your app for bugs and errors and let the development team know the changes. There are online UI testing tools to analyze your app from a real-time perspective.
Publishing
Now that you own a responsive mobile app with no bugs, high security, and performance, you can go online with your services. Register your app on Playstore/Appstore or both and let your target audience reach out to you. At this step also you can hire the help of a mobile app development company to get through your app's registration over these app marketplaces.
Marketing 
How will the potential crowd know about your brand and services? This is when a marketing team comes into the limelight. They will help you fetch organic leads and downloads with the help of correct SEO, SMO, and SMM techniques on your application. 
Look for the leading mobile development company in Houston to fulfill your app development and marketing purposes under one roof.
Maintenance
The process of mobile app development doesn't end with developing and publishing an app. An app needs to be maintained for regular updates, changes, and technical lags. An app is built for your business to grow and it is worthy of your investment only if it is updated and maintained frequently. 
Go for a long-term relationship with your app development company and outsource your task of maintaining the app as well. Check out the best mobile app development company in Los Angeles who is known to render customized solutions for your entire app development requirement (a scratch to end).
How Can You Reduce Your Cost of Mobile App Development?
Owning an application – does it look like it needs a shedload of money? Well, there is a silver lining for you. You can own a full-fledged application and still be easy on your expenses. Let's check out how? 
Step-1: Prepare briefings of your requirements and ideas.
Make sure to hold a vision from your app. Last moment changes and integrations always cost more.
Step-2: MVP can help you cut your cost
Minimum Viable Product is an app with minimum but important components and features. You can surely introduce updates in the features to give a more personalized experience to your user which will keep them engaged with your services.
Step -3: Cross-Platform App development
Such apps are flexible with any OS and can easily be made with open-source frameworks. A single source-code runs on various smart gadgets enhancing your customer reach while saving your time and cost to develop, test, and publish the app.
Step-4: Outsource Your App Development
Outsource your tasks to the best IT service providers. They hold expertise in the field and will give you the best outcomes. How can you save? No capital investment, no talent hunt, no training, no hidden costs. Being a business in the USA, offshore outsourcing is the most cost-efficient deal for you.
What VerveLogic Can Do For You?
VervLogic is a leading mobile app development company and a comprehensive kit for your mobile app development. A one-stop solution to your complete mobile app development and marketing requirements, we are patient enough to get into the roots of your business requirements and integrate your goals in a full-fledged working app. 
Verve logic holds an upper hand in grocery, educational, blockchain, real estate, e-commerce, healthcare app development.
Vervelogic assures you: 
-> Cost-effective deals
-> Less time to market advantages
-> Deep understanding of your goals and vision
-> High-end customer support
-> Highly responsive applications with high-performance
-> Best use of open-source frameworks to build your app providing an affordable yet quality product.
-> Best offshore IT outsourcing hub.
-> Guaranteed data security
Conclusion
Mobile applications hold a lot of possibilities for a business's success, provided that you hire the ideal resource for your needs. This is when a certified and experienced mobile app development company in the USA comes into the role.
They hold years of experience dealing in similar mobile app requirements as yours and know how to effectively crack each process of mobile app development seamlessly and without delay. Avoid remote freelancers and hire an established outsourcing firm like Vervelogic as these can handle your funds and deploy them into just the right technology for app development. 
(Visited 70 times, 1 visits today)